Jim Harbaugh Has Spent Two Days Obsessing About a Call Late in a Game His Team Won by 33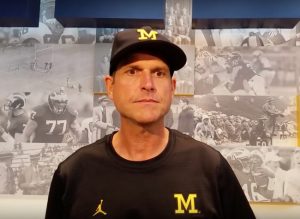 Michigan coach Jim Harbaugh has spent the past three days enjoying his team's 41-8 victory over Illinois the best way he knows how — by obsessing over something completely meaningless.
In the closing moments of the game, an official spotted the ball two yards short of a first down after a completed pass, bringing up fourth and two. Harbaugh, remarkably, challenged the play — despite his team being up 33 points in the final seconds. Harbaugh ended up losing challenge.
Two days later, the coach was still peeved about what he believed to be a blown call. So much so that he brought it up unprompted at his regularly scheduled Monday news conference.
"I've never seen a worse call in the game of football," Harbaugh said, in the video above via MLive. He added, "I don't know that I've ever seen a more strange replay."
He went on to spend two-and-a-half minutes breaking down the official's call with reporters. It should be noted that Michigan, after the call, ended up going for it on fourth down, and converting. They went on to kneel twice and run out the clock. So the call had absolutely no ramifications.
It should also be reiterated that Michigan was up 33 points in the game. Thirty-three points. Nearly five touchdowns.
Harbaugh also tried a fake punt with 10:35 left in the game and the Wolverines up 34-0.
All of this leads to one incontrovertible conclusion: Jim Harbaugh was in the mood for a cheap steak.
[image via screengrab]
–
Follow Joe DePaolo (@joe_depaolo) on Twitter
Have a tip we should know? tips@mediaite.com
Joe DePaolo - Senior Editor