Jim Webb: Why Is No One Going After Hillary for 'Inept Leadership' on Libya?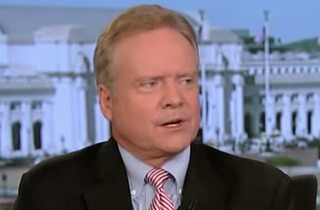 Former Democratic candidate Jim Webb really went after Hillary Clinton on foreign policy and her "failure as Secretary of State" on Facebook this morning.
Webb, who decried how the DNC rigged debates in Clinton's favor before dropping out, lamented how no one is calling her out "for her inept leadership that brought about the chaos in Libya, and the power vacuums that resulted in the rest of the region."
He dismissed her "nonsensical" excuse about wanting to avoid another Syria-like catastrophe since, as he argues, that's already happened:
Clinton talked at this last DNC debate about her failure as Secretary of State as if she was successful. While she held that office, the U.S. spent about $2 billion backing the Libyan uprising against Qadaffi. The uprising, which was part of the Arab Spring, led directly to Qaddafi being removed from power and killed by rebel forces in 2011. Now some 2,000 ISIS terrorists have established a foothold in Libya. Sophisticated weapons from Qaddafi's arsenal—including up to 15,000 man-portable, surface-to-air missiles have apparently fallen into the hands of radical Islamists throughout the region. For a Secretary of State (and a Presidential administration) this is foreign policy leadership at its worst.
There's been talk that Webb may attempt an independent bid for the presidency, and between this post and another one earlier this week calling President Obama and the Democratic party "out of touch" on the American working class, that could still happen…
[h/t The Hill]
[image via screengrab]
— —
Follow Josh Feldman on Twitter: @feldmaniac
Have a tip we should know? tips@mediaite.com
Josh Feldman - Senior Editor