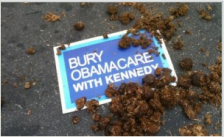 Despite the growing criticism from his own side of the aisle over yesterday's remarks that much of the anger directed at President Obama is racially motivated, former President Jimmy Carter kept hammering at it last night during an address in Atlanta. Only this time Carter was a tad more specific, targeting those "demonstrators" as who describe Obama "as a reincarnation of Adolf Hitler, or when they wave signs in the air that we should have buried Obama with Kennedy" as having a "racist attitude."
Is this a sign that Carter is planning on going after Glenn Beck? (One imagines the White House is very much hoping otherwise.) The presence of the Obama/Kennedy signs at last weekend's 9/12 rally were well documented, and last month Beck made headlines for comparing aspects of Obama's health care plan, to the Nazi's eugenics program during WWII. The Obama as Hitler signs, meanwhile, made their appearance during some of the more rowdy town halls this summer. It's hard to miss Carter's insinuation here.
Regardless of what Carter's long-term goal is with these sorts of remarks, President Obama wants nothing to do with it. From today's New York Times:
But this time the White House has made clear that it does not want to engage on the topic, which beyond threatening to distract attention from the health care push could also put further strain on Mr. Obama's broad but tenuous electoral coalition of liberals and moderates, Democrats and independents. Signaling that he had no intention of lending his voice to Mr. Carter's accusation, the president declined to answer a reporter's question on the subject in the Oval Office on Wednesday.
Whether or not that's realistic remains to be seen. Carters full remarks below.

Have a tip we should know? tips@mediaite.com