Jimmy Kimmel Tweets and Deletes Disturbing Photoshopped Picture of Sean Hannity…And a Clown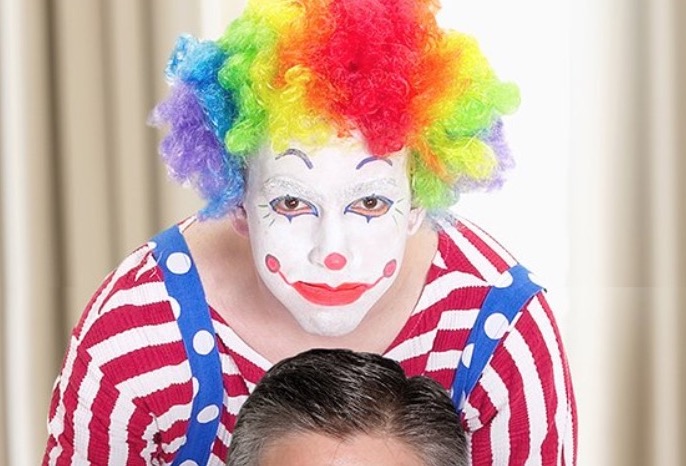 Happy Friday everyone! As you may have noticed, ABC's late night host and Fox News's highest rated primetime host have been on a marathon exchange of insults that's been going for some 20 hours now.
Before we get to the deleted tweet in question, a brief timeline:
On Monday night, Jimmy Kimmel mocked Melania Trump for her accent. Sean Hannity called Kimmel a "despicable disgrace" and an "ass clown" for the comments. On Thursday night, Kimmel asked why Hannity was "openly fantasizing about clowns in the ass?"
Then Hannity took the battle to Twitter, dubbing Kimmel "Harvey Weinstein Jr." and linking to old clips from the comedian's The Man Show in which he had women guess what was in his pants with their hands.
In the midst of all this Kimmel tweeted — and then quickly deleted — a photoshopped image of Hannity with a clown looming behind him, an apparent riff on the "ass clown" insult. It's not exactly what comes to mind when I think of "ass clown," but it's certainly creative (and incredibly disturbing). He tweeted it twice, available thanks to the Wayback Machine: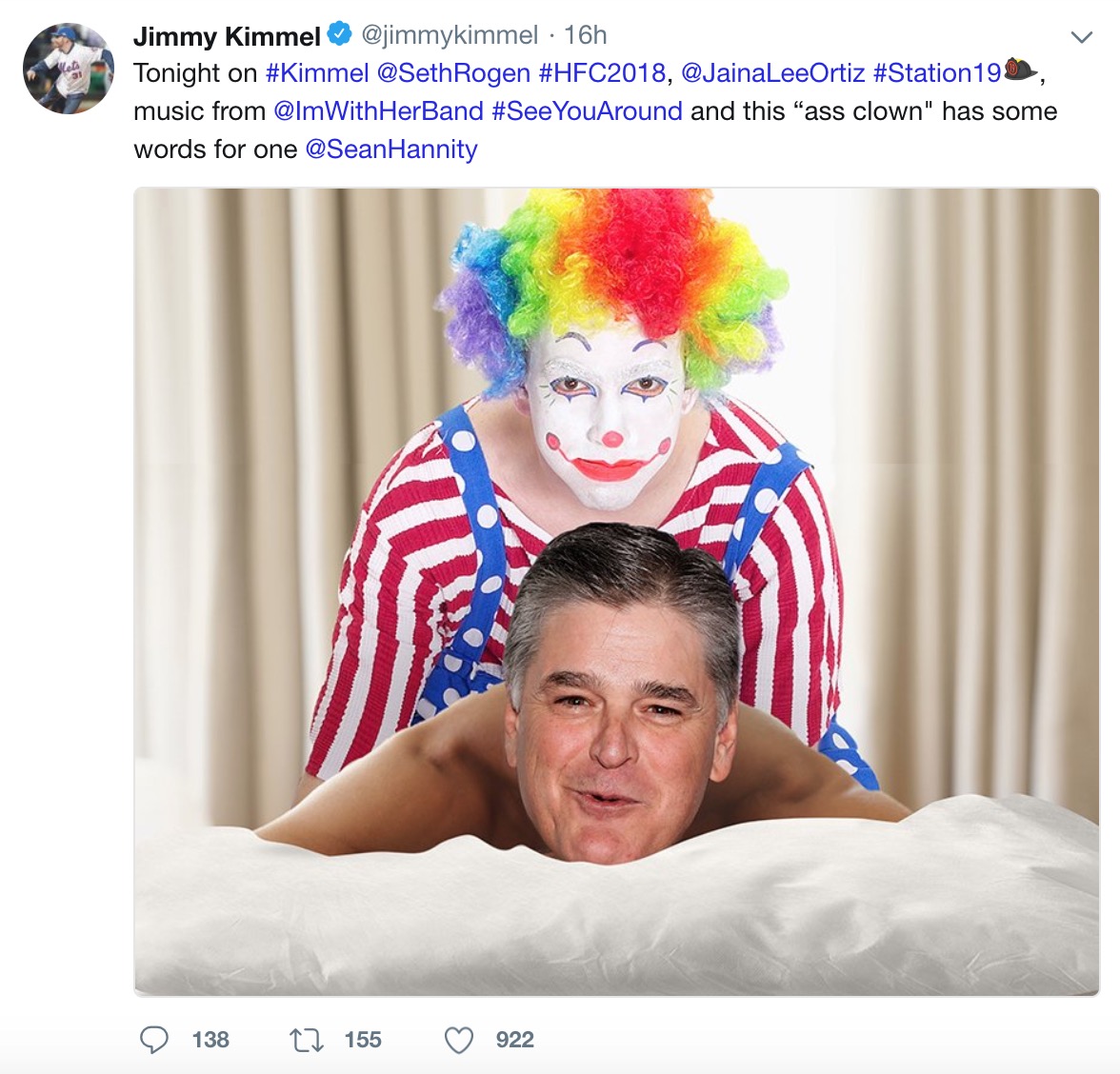 Either way, it seems either Kimmel or his ABC overlords deemed the photoshop-job too filthy for the Twitter, as the photos were deleted soon after posting.
But that hasn't put a stop to the virtual slugfest. As of writing, Kimmel has asked Hannity if he would want his daughter being "grabbed by the pussy," and Hannity responded by dubbing Kimmel "the poor man's Colbert," to which Kimmel responded by dubbing Hannity "the poor man's Rachel" Maddow.
This was the latest:
Don't worry – just keep tweeting – you'll get back on top! (or does Trump prefer you on bottom?) Either way, keep your chin up big fella..XO https://t.co/R4QJCoGYCL

— Jimmy Kimmel (@jimmykimmel) April 6, 2018
Hannity's on at 9 p.m. tonight, so don't expect this to end anytime soon.
[image via screengrab]
—
Follow Aidan McLaughlin (@aidnmclaughlin) on Twitter
Have a tip we should know? tips@mediaite.com
Aidan McLaughlin - Editor in Chief