Joe Williams' 1st Interview Since Politico Suspension: 'I Gave (Breitbart.com) The Rope, They Did The Hanging'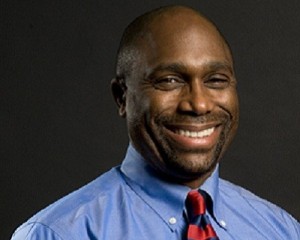 As embattled Politico White House correspondent Joe Williams awaits his fate, he granted Mediaite his first interview since being suspended by his site over remarks he made about Republican presidential candidate Mitt Romney's comfort level with the "white folks" on Fox and Friends. In our extensive interview, Mr. Williams discussed his status with Politico, explained some of the tweets that have since been reported on, and elaborated on his criticism of right-wing media sites like Breitbart.com.
Joe was limited in what he could say about his status with Politico, but was able to reveal that while he's still "in limbo," he has been in touch with Editor in Chief Jonathan Harris and Executive Editor Jim VandeHei since The Daily Caller published tweets from Williams' timeline that were critical of the site, but declined to elaborate. There's no timetable for when this situation will be resolved, but Mr. Williams did say he would like to remain at Politico, if possible.
In our exclusive interview, Joe Williams talks about the challenges presented by a lack of diversity in the media, explains the "racism is the secret sauce in the Politico shitburger" tweet, and makes some great observations about journalism in the new media age. While he regrets his "inartful" language regarding Mitt Romney, he stands firmly behind the substance of those remarks, repeatedly.
Williams also has some harsh words for the "Big Media" Breitbart.com sites, saying that "I gave them the rope, but they did the hanging," and calling out the right-wing media over its contempt for the rules of journalism.
I conducted this interview while stuck in traffic going into the Lincoln Tunnel, so please excuse the ambient noise. Joe Williams will also be appearing on Current's Full Court Press with Bill Press on Wednesday morning.
Here's the interview:
Follow Tommy Christopher (@TommyXtopher) on Twitter.
Have a tip we should know? tips@mediaite.com