Speaker Boehner Tells WSJ 'Some Of The Dumbest' People In America Are Members Of Congress
Boehner Tells WSJ 'Some Of The Dumbest' People In America Are Members Of Congress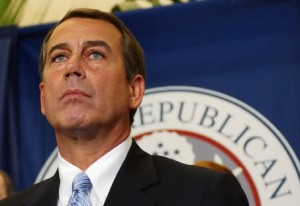 The Wall Street Journal ran a profile over the weekend of House Speaker John Boehner, and Boehner opened up on everything from the influence of the tea party on Republicans in Congress to government corruption. But the most revealing moment in the interview came when he admitted that some of his colleagues in Congress aren't exactly the brightest bulbs in the bunch.
RELATED: Speaker Boehner Defends The Tea Party, Opens Up About Preventing Scandal In WSJ Chat
When confronted with Congress' incredibly low approval ratings, Boehner said that Americans are right to be frustrated with Congress, but added that "Congress has been America's 'favorite whipping boy for 200 years.'" Boehner then touted all of his responsibilities as speaker and said that Congress represents a small fraction of how diverse the country is.
"People think I've got this job as a leader. They don't realize that I have about 200 responsibilities and roles. I've gotta be the big brother, the father, I gotta be the disciplinarian, the dean of students, the principal, the spouse—you can't believe all the roles that I have to play! But one of them is, you know, some problems you can nip early. I had three guys in here a few years ago, I said 'Boys, you're cruising down the wrong path.' Two of them listened, one of them didn't. He's no longer here."

"We got 435 members. It's just a slice of America, it really is. We got some of the smartest people in the country who serve here, and some of the dumbest. We got some of the best people you'd ever meet, and some of the raunchiest. We've got 'em all."
One can only imagine who Boehner puts in the "dumbest" category. Also, am I the only one who gets slightly queasy at the idea of our legislators doing anything raunchy?
h/t Huffington Post
Have a tip we should know? tips@mediaite.com
Josh Feldman - Senior Editor