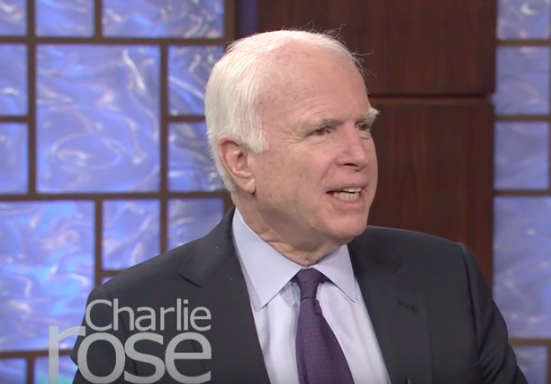 As criticism mounts against the House Select Committee on Benghazi, Sen. John McCain defended the hearings Monday, comparing the investigation to the Watergate scandal and insisting the conclusions reached by the panel will be "the ultimate test."
In an interview on PBS's Charlie Rose on Monday, McCain said there have been "attempts to discredit" the Benghazi committee, but insisted "… every major investigation that you and I have seen leads some different directions. Certainly Watergate was a great example of that".
McCain called into question Democratic presidential hopeful Hillary Clinton's handling of the Benghazi attacks and the State Department's initial talking points to the press. "I know this — that people don't come to spontaneous demonstrations with mortars and RPGs," he said, adding, "Susan Rice talked about hateful videos and spontaneous demonstrations."
McCain suggested that, like Watergate, it is a question of what Clinton knew, and when she knew it. In the aftermath of the attack, McCain said he witnessed Clinton still speaking of the attack as a spontaneous demonstration. By that time, "it was obvious that there was no hateful video. That this was a planned and well-carried-out attack," McCain said.
Democrats have branded the committee as a "witch hunt" in recent weeks; on Sunday, Elijah Cummings, the Ranking Member of the House Select Committee on Benghazi sent a letter to Trey Gowdy — chairman of the Benghazi panel — demanding an "immediate apology" over accusations that Gowdy fabricated redactions to inflate the claim that Clinton sent classified information over her private server. Cummings writes, "Unfortunately, the standard operating procedure of this Select Committee has become to put out information publicly that is inaccurate and out of context in order to attack Secretary Clinton for political reasons."
McCain defended Gowdy's leadership on the panel, telling Rose, "I know Trey Gowdy. I know that he is an honest man and a man of integrity." When prompted to answer regarding Clinton's level of knowledge about the situation, McCain replied, "The famous Watergate… about Nixon, I guess, what did he know and when did he know it is — applies here," he said.
Check out the above video of McCain discussing Gowdy from PBS.
[image via screengrab]
Have a tip we should know? tips@mediaite.com