John McCain Reassures Angry Strippers Outraged Over $1 Coins: You'll Get Bigger Tips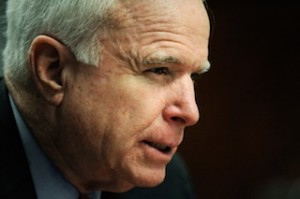 This is possibly the least sexual story you will ever read about a member of Congress dealing with strippers, so make of that what you will. For a while now, a number of senators have backed a bill to get rid of the "wasteful, inefficient" $1 bill and replace it with a coin, which, apparently, is wasted at a rate that's costing taxpayers quite a lot every year. One group particularly unhappy with this is strippers, because they don't want men throwing heavy coins at them instead of easy-to-carry bills. Luckily, John McCain is here to make sure the strippers get a happy ending, assuring them that this just means they'll get bigger tips.
The Hill, a widely read and respected Washington publication that used the phrase "shake what your momma gave you" in their article on this, recalls how at least one gentlemen's club in D.C. has been on the other side of this issue for a few years now.
Daniel Harris, owner of Archibald's Gentleman's Club in downtown D.C. told us back then, "I think it would be very awkward for everyone involved. How much more would a coin weigh than a dollar bill? It would be very hard."
That's what she s… nah, too easy.
But never fear, strippers of the world, John McCain is here! And John McCain understands the pain strippers will go through if they get pelted night after night with coins instead of the feel of a hairy arm slipping a paper bill into their thongs. Here's his suggestion:
When pressed about the predicament facing scores of the country's skin-baring and bill-collecting women, McCain responded without missing a beat, "Then I hope that they could obtain larger denominations."

The 76-year-old lawmaker began answering another reporter's prying questions before cracking a smile and hollering to ITK down a Capitol hallway, "Fives, tens, one hundreds!"
A hundred-dollar bill? That'd have to be one hell of a lap dance.
—–
Follow Josh Feldman on Twitter: @feldmaniac
Have a tip we should know? tips@mediaite.com
Josh Feldman - Senior Editor