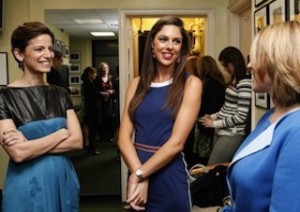 Former Republican presidential candidate Jon Huntsman Jr.'s daughter Abby Huntsman has inked a deal with Huffington Post to host a show on HuffPost Live, a web TV network the site will roll out.
Huntsman began blogging about politics for Huffington Post in February, after her father dropped out of the race. She has appeared on CNN as a political contributor, and previously worked as a booker for for ABC News in Washington, D.C., and Good Morning America in New York City.

Huntsman told Mediaite she sees the HuffPost Live as the future of broadcast media.
"I couldn't be more excited about this next chapter in my life," she said. "HuffPost Live, launching later this summer, will be a live streaming channel focusing on real conversations with real people. I truly believe this will be the future of broadcast media and am thrilled to be working with such a talented group of people."
Huntsman is the latest child of a well-known politician to land a media job in recent years. Sen. John McCain's daughter Meghan McCain became a Daily Beast contributor in 2009, and in 2011, she began appearing on MSNBC. Former President George W. Bush's daughter Jenna Bush Hager became a part-time correspondent for NBC's Today in 2009. Former President Bill Clinton and Secretary of State Hillary Clinton's daughter Chelsea Clinton produced several segments for NBC in 2011.
HuffPost Live is slated to launch in July, Capital New York reports, with 12 hours of live, streaming content five days a week. Also joining HuffPost Live as hosts are Ahmed Shihab-Eldin of Al Jazeera English, the daughter of New Jersey's Democratic Sen. Robert Menendez, Alicia Menendez, and Fox contributor Marc Lamont Hill.
Follow Hunter Schwarz (@hunterschwarz) on Twitter
Have a tip we should know? tips@mediaite.com