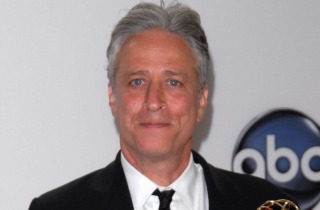 Jon Stewart's directorial debut, Rosewater, will be released in theaters in just a few weeks. And in an interview with The Hollywood Reporter, Stewart opens up about the process of directing a film, as well as some musings on the state of late night TV and personal criticisms he's gotten for some of his material.
Rosewater is based on the imprisonment of journalist Maziar Bahari in Iran five years ago. Bahari, in fact, was interrogated about an interview he did in Iran with The Daily Show. Stewart felt moved enough by Bahari's book to bring his story to the screen. Iran isn't too happy about it, and a state TV channel accused him of doing the bidding of his Zionist masters.
What does Stewart think about that? "The suggestion is that the CIA and Zionist lobby funded this… I guess I'm still waiting for the money."
As for late night, Stewart admitted he wasn't too keen all those years ago about being courted to replace David Letterman, but has nothing but praise for Colbert, who's taking over that coveted spot next year.
But Stewart also addressed the criticism he got for a bit on Israel a few weeks ago, including some pretty personal insinuations that he's a self-hating Jew.
Look, there's a lot of reasons why I hate myself — being Jewish isn't one of them. So when someone starts throwing that around, or throwing around you're pro-terrorist, it's more just disappointing than anything else. I've made a living for 16 years criticizing certain policies that I think are not good for America. That doesn't make me anti-American. And if I do the same with Israel, that doesn't make me anti-Israel… I'm pretty impermeable to yelling. As soon as they go to, 'Your real name is Leibowitz!' that's when I change the channel.
THR does, however, include some words of praise from none other than Bill O'Reilly, Stewart's occasional sparring partner. O'Reilly praises Stewart as one of the few late night hosts who "actually listens to you when you talk."
You can read the full interview here.
[image via screengrab]
— —
Follow Josh Feldman on Twitter: @feldmaniac
Have a tip we should know? tips@mediaite.com
Josh Feldman - Senior Editor