Jonah Goldberg Busted For Claiming He Had 'Twice Been Nominated' For Pulitzer Prize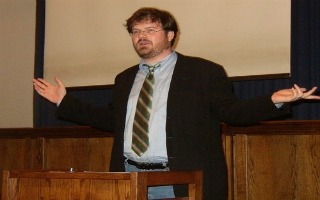 In the jacket of his new book, The Tyranny of Clichés: How Liberals Cheat in the War of Ideas, conservative columnist Jonah Goldberg claimed that he had "twice been nominated for a Pulitzer prize." On Tuesday, Goldberg acknowledged that he has never been nominated for a prize, but was only one of thousands of possible candidates.

RELATED: Round Two: Piers Morgan Invites Back Jonah Goldberg, Promising A Fair Fight
Goldberg said that he had not intended to mislead, when confronted by MSNBC.com and added "I never put it in the bio in the first place."
MSNBC.com reporter Bill Dedman writes, "What's surprising in Goldberg's case is that he has been called out for the same résumé padding before, when his previous book was published.
When Goldberg's "Liberal Fascism" came out in January 2008, his employer National Review Online announced that Tribune Media Services, which carries Goldberg's opinion columns, had "nominated" Goldberg for a Pulitzer in commentary.

The liberal blog Daily Kos then pointed out that the Tribune doesn't choose Pulitzer nominees, writing about "Goldberg's faux Pulitzer."

Commenters on Amazon took up the baton, attaching to Goldberg's Amazon profile several lengthy notes pointing out the puffery. The book sold well, reaching No. 1 on the New York Times hardcover list in March 2008.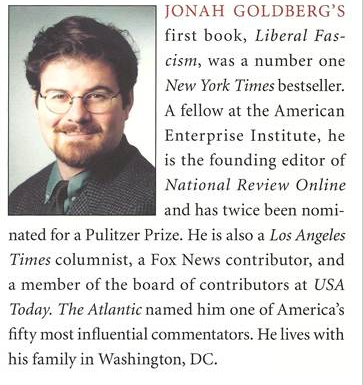 Goldberg's colleague, Katheryn Jean Lopez had written in 2008 that Tribune Media had nominated Goldberg for a Pulitzer when he had just been submitted. At the time, Goldberg's bio on the site, according to the Daily Kos, described him as the "Pulitzer-Nominated Conservative Columnist and Editor of the National Review Online."
Goldberg himself has refused to offer a statement on the Pulitzer claim, but a representative from Penguin Group, who published "Tyranny of Clichés," issued a statement that assured readers "there's no conspiracy here."
In casual conversation, whenever a news organization submits one of their writers for a prize, people say that person was nominated. By that standard Jonah Goldberg 'has twice been nominated for a Pulitzer Prize.' You've brought it to our attention that the Pulitzer authorities don't approve of that usage, and that technically Jonah was 'entered' but not 'nominated.'
…
However, it would be completely inaccurate for you to conclude that there was any intent to inflate Jonah's credentials or deceive anyone. His credentials are extremely impressive already and don't require any extra hype."
Dedman includes a note at the bottom of the story, having evidently received a message from Goldberg that was inadvertently forwarded by his publisher which read, "It's a bulls**t story and I think this walks the line between acting in good faith and making that clear," in reference to the statement from Penguin.
h/t MSNBC.com
Have a tip we should know? tips@mediaite.com