Jonah Goldberg: Young People 'So Frickin' Stupid' Voting Age Should Be Raised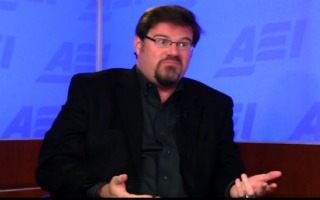 Author and editor-at-large of National Review, Jonah Goldberg, gave a scathing review of youth culture and slammed what he described as an "unhealthy" reverence for young voters. He said that young people are "frickin' stupid about some things" and believes that the voting age should be raised.

RELATED: Jonah Goldberg: Media Has A 'Nagging Insecurity' Over 'Cheerleading' For Obama In 2008
Speaking at the American Enterprise Institute, Goldberg said that he thought the voting age should be raised and it was a mistake to lower it in the first palace:
"I am not particularly enamored with the youth," said Goldberg employing air quotes. "I don't think youth politics is something very special or enviable. Personally, I think the voting age should be much higher not lower. I think it was a mistake to lower it to 18, to be brutally honest."
Goldberg said there is a "power worship" in the popular reverence for the youth vote. He said that "they're going to run the country someday, so we should really explain to them why they're "so frickin' stupid about some things."
"It is a simple fact of science that nothing correlates more with ignorance and stupidity more than youth," Goldberg continued. "We're all born idiots, and we only get over that condition as we get less young."
He said that youth culture is possibly more powerful than it has ever been and that is "unhealthy for a society."
Goldberg said that many young people view socialism as a viable alternative to capitalism and that is proof of "what social scientists call, 'they're stupidity.'"
"That's something that conservatives have to work hard to beat out of them, either literally or figuratively, as far as I'm concerned," Goldberg concluded.
h/t Huffington Post
Have a tip we should know? [email protected]