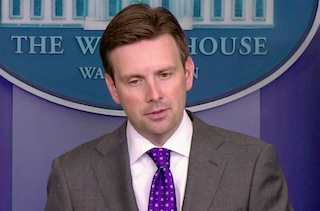 The apparent disconnect between the State Department, the Pentagon and the White House when it comes to the military mission against ISIS persisted on Tuesday when Joint Chiefs of Staff Chairman General Martin Dempsey told a congressional committee that if he found that circumstances were "evolving" on the ground in Iraq he would consider a recommendation of sending in U.S. combat troops.
This despite President Barack Obama's promise that there would be "no boots on the ground" in the fight against ISIS.
During a press gaggle en route to Atlanta, where the president was set to make remarks at the CDC on Ebola, Press Secretary Josh Earnest was asked specifically about Dempsey's comments. Here's how he responded:
"I think, as was clear from General Dempsey's remarks, that he was referring to a hypothetical scenario in which there might be a future situation in which he might make a tactical recommendation to the President as it relates to the use of ground troops.

It's the responsibility of the President's military advisers to plan and consider all the wide range of contingencies. It's also the responsibility of the Commander-in-Chief to set out a clear policy. And the President has been clear about what that policy is. He reiterated it on a number of occasions; most recently, I believe in his address to the nation on Wednesday night, which is that the President does not believe that it would be in the best interest of our national security to deploy American ground troops in a combat role in Iraq and Syria. That policy has not changed."
Earnest later clarified that the president has "deployed American servicemen and women — a limited number of them —to serve in an advise-and-assist capacity" but that he "will not deploy ground troops in a combat role into Iraq or Syria."
Indeed, Dempsey did speak in a hypothetical sense, even laying out a potential development that would lead him to recommend combat troops. "If the Iraqi security forces and the Peshmurga were at some point ready to retake Mosul, a mission that I would find to be extraordinarily complex, it could very well be part of that particular mission to provide close combat advising or accompanying for that mission," the general said. "But for the day to day activities I anticipate will evolve over time, I don't see it to be necessary right now."
The question remains: If those hypothetical scenarios become reality and the Joint Chiefs do advise President Obama to send in combat troops to Iraq or Syria, will he take their advice? Or will he ignore it in order to keep his promise to the American people?
Watch video of Dempsey's remarks below, via CNN:
[Photo via screengrab]
— —
>> Follow Matt Wilstein (@TheMattWilstein) on Twitter
Have a tip we should know? tips@mediaite.com