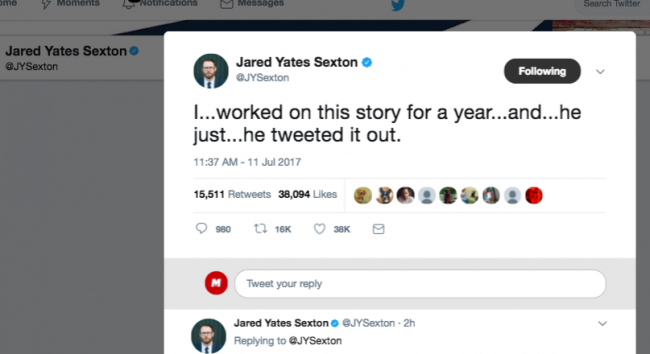 On Tuesday the political and media worlds were rocked by news that Donald Trump Jr. has enthusiastically met with a Kremlin-linked lawyer during the 2016 presidential campaign for the express purpose of discussing possible dirt on Hillary Clinton.
An email released by Trump Jr. appeared to squarely link the younger Trump to an active effort to collude with Russian authorities to undermine the Democratic nominee for president.
The email was released on Twitter by Trump Jr. in order to scoop an impending story in the New York Times. It wasn't just the Times who was scooped. Independent journalist and creative writing professor Jared Yates Sexton had more than a year of his own research stepped on by Trump Jr.'s sudden disclosure.
In a cascading array of tweets, the journalist volleyed from disbelief, to sorrow, to exhilaration with a velocity that suggested a near delirium.
"It kind of reminded of that scene in the Twilight Zone where the guy broke his glasses, just when he had all the books," said Mediaite intern Vinny Guarino.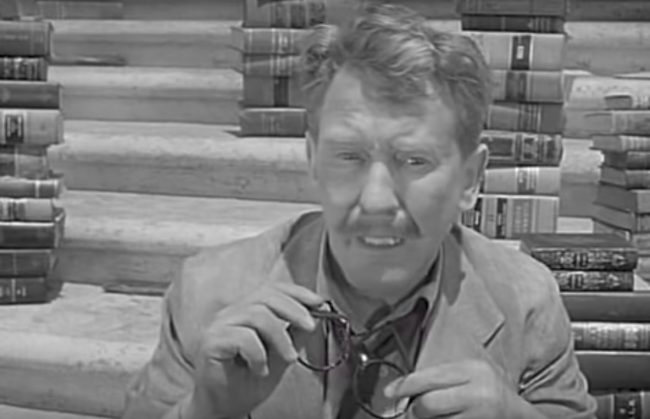 Some in this profession might say it's a privilege to be able to work on a whole story for a year, regardless of outcome  — but we feel your pain.
Here it is, in all its glory — we're not even sure it's over.
That sound you just heard was every Trump lawyer in DC opening the window and screaming.

— Jared Yates Sexton (@JYSexton) July 11, 2017
Lawyer: I think our best defense is to admit there was collusion and provide proof.

Junior: Done and done.

— Jared Yates Sexton (@JYSexton) July 11, 2017
He didn't just write that it was Russia helping. He wrote "government."

What. Is. Going. On.

— Jared Yates Sexton (@JYSexton) July 11, 2017
This is the dumbest and biggest crime in the history of American politics. There's not even a close second.

— Jared Yates Sexton (@JYSexton) July 11, 2017
The son of the president just released the smoking gun and the people are laughing about it on the news.

— Jared Yates Sexton (@JYSexton) July 11, 2017
I chased this story for a year and he just…tweeted it out.

— Jared Yates Sexton (@JYSexton) July 11, 2017
I…worked on this story for a year…and…he just…he tweeted it out.

— Jared Yates Sexton (@JYSexton) July 11, 2017
Like. I spent hours and days and weeks and months. And his son just, hit tweet.

— Jared Yates Sexton (@JYSexton) July 11, 2017
I tracked down sources. Followed so many dead leads. Labored over this. And then, he just, you know, tweeted out the proof.

— Jared Yates Sexton (@JYSexton) July 11, 2017
I'm not entirely convinced I'm not having a break from reality.

— Jared Yates Sexton (@JYSexton) July 11, 2017
For the record, I'm beside myself in relief that this stuff is out there it's just…my god. I cannot believe this.

— Jared Yates Sexton (@JYSexton) July 11, 2017
Like, so many people out there were trying to track this down. And it just…got delivered on a tweet. What the hell.

— Jared Yates Sexton (@JYSexton) July 11, 2017
I'm an independent journalist and I can tell you, there's a lot of us who have just gone after this thing in our free time.

— Jared Yates Sexton (@JYSexton) July 11, 2017
I've talked to so many people who've put in hours and hours on this story. And sometimes you just feel like it's never going to happen.

— Jared Yates Sexton (@JYSexton) July 11, 2017
Hey. I'm good. I feel great. I'm just…absolutely baffled at the moment.

— Jared Yates Sexton (@JYSexton) July 11, 2017
For clarification, I wasn't reporting for the New York Times on this story. That team has busted their ass.

— Jared Yates Sexton (@JYSexton) July 11, 2017
Best. Honestly.

— Jared Yates Sexton (@JYSexton) July 11, 2017
Is it possible Trump Jr thinks he didn't do anything wrong?

— Jared Yates Sexton (@JYSexton) July 11, 2017
All the research and was done on my own as an independent journalist.

— Jared Yates Sexton (@JYSexton) July 11, 2017
Hey, so don't get me wrong. I am incredibly happy that the president's son, um, tweeted out proof of collusion. 1/

— Jared Yates Sexton (@JYSexton) July 11, 2017
It's just so bizarre. As an independent journalist you work crazy hard hoping something will fall into your lap and…he tweeted it? 2/

— Jared Yates Sexton (@JYSexton) July 11, 2017
And it's so strange. Last year there were those of us who were all over this story and being called paranoid. And now…this? 3/

— Jared Yates Sexton (@JYSexton) July 11, 2017
I mean. He just tweeted it. Like it was nothing. Like, it was just another Tuesday. 4/4

— Jared Yates Sexton (@JYSexton) July 11, 2017
And now supporters are coming out of the email to say this wasn't a crime and isn't a big deal.

— Jared Yates Sexton (@JYSexton) July 11, 2017
I don't think it ever occurred to journalists to just ask one of the Trump's for proof of collusion. In retrospect that feels nearsighted?

— Jared Yates Sexton (@JYSexton) July 11, 2017
I just met you /
And this is crazy /
If you're interested in collusion /
Call me maybe?

— Jared Yates Sexton (@JYSexton) July 11, 2017
This is the most baffling day in a long, long stretch of baffling days.

— Jared Yates Sexton (@JYSexton) July 11, 2017
Have a tip we should know? tips@mediaite.com