'Journalistically It's Horrifying' — CNN's Jake Tapper Condemns Leak of Town Hall Question to Clinton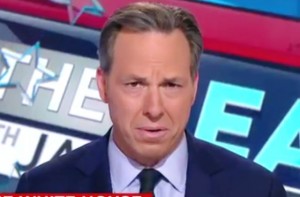 CNN's Jake Tapper was unequivocal in his condemnation of the leak that delivered Hillary Clinton a question from a CNN town hall.
As emails released by Wikileaks revealed, Donna Brazille, while still a CNN contributor, had access to a question about the death penalty that Clinton would be asked at the event. "From time to time I get the questions in advance," she wrote in the leaked missive, giving the Clinton campaign a question about the death penalty which Clinton was asked almost verbatim.
Tapper called the revelation "very, very troubling" in an interview with WMAL Thursday. He continued:
It's horrifying. Journalistically it's horrifying and I'm sure it will have an impact on partnering with this organization in the future and I'm sure it will have and effect on… Donna Brazile is no longer with CNN because she's with the DNC right now, but I'm sure it will have some impact on Donna Brazille.
Brazille left CNN when she took over as interim chair of the DNC in July.
Washington Post writes:
CNN has insisted that it did not lose custody of the question; reports have suggested that the leak came from Brazile through TVOne, whose Roland Martin co-hosted the debate in cooperation with CNN.
Tapper added:
People at CNN take this very, very seriously and to have somebody who does not take it seriously and to have us partner with that person and then they do something completely unethical and share it with Donna Brazile who then shares it with the Clinton campaign… it's horrifying and very, very upsetting and I can't condemn it any more than… I condemn it in no uncertain terms, it's awful.
—
Sam Reisman (@thericeman) is a staff editor at Mediaite.
Have a tip we should know? tips@mediaite.com