Joy Reid's 'Cyber Security Expert' Bragged About Affiliations With Neo-Nazis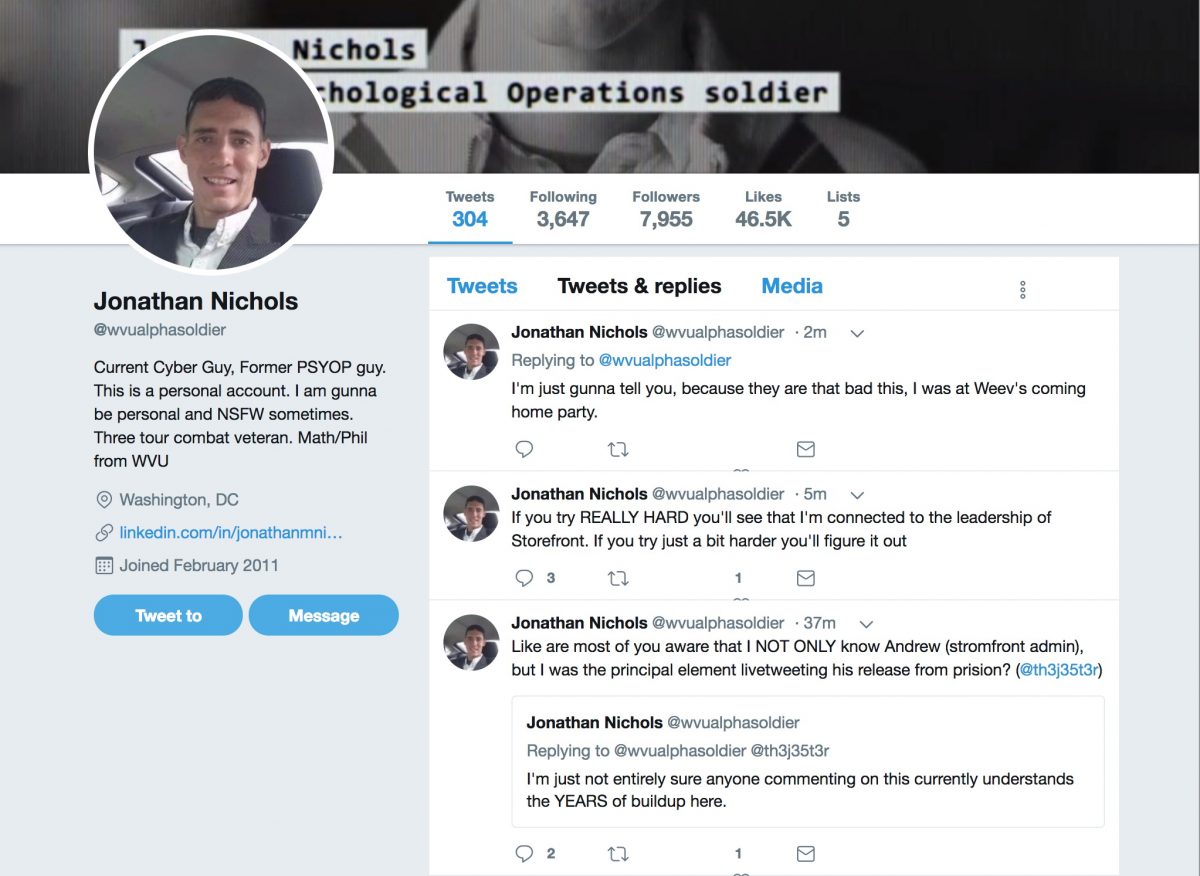 Joy Ann Reid's "cyber security expert" Jonathan Nichols, who the MSNBC host hired to prove that she did not write the supposedly "fabricated" anti-gay posts published on her old blog, once bragged about knowing prominent white supremacist Andrew "weev" Auernheimer.
NBC quietly circulated a statement from Nichols late Tuesday night which claimed to have found "evidence Joy Reid's now-defunct blog, the Reid Report, was breached after a review of suspicious activity."
While the Reid debacle thus far has focused on dated homophobic material published on the AM Joy host's now-defunct blog The Reid Report, it appears that Nichols himself has a history of disturbing old posts.
The self-declared "Current Cyber Guy, Former PSYOP guy" goes by the handle @wvualphasoldier on Twitter, where he posts a stream of self-serious, bizarre ramblings. After NBC released a statement regarding his work for Reid, however, Nichols deleted all of his account's old posts, went on a tweetstorm declaring a "lock down" of his account, and then placed it on protected mode so non-followers could not see his tweets.
Using the Internet archiving services Archive.is and the Wayback Machine, Mediaite discovered a series of Nichols' old tweets in which be brags about personally knowing the infamous neo-Nazi troll Andrew Auernheimer, who is more commonly known by his hacker name weev.
"Like are most of you aware that I NOT ONLY know Andrew (stromfront admin), but I was the principal element livetweeting his release from [prison]," tweeted Nichols on December 9, 2017. "If you try REALLY HARD you'll see that I'm connected to the leadership of [Stormfront]. If you try just a bit harder you'll figure it out."
It is worth noting that weev is not an administrator for Stormfront, but is instead the webmaster for The Daily Stormer — the biggest Nazi site in America. In his tweets, Nichols appears to have confused the two racist sites.
"I'm just gunna tell you, because they are that bad this, I was at Weev's coming home party," Nichols added — a reference to weev's release from prison in 2014.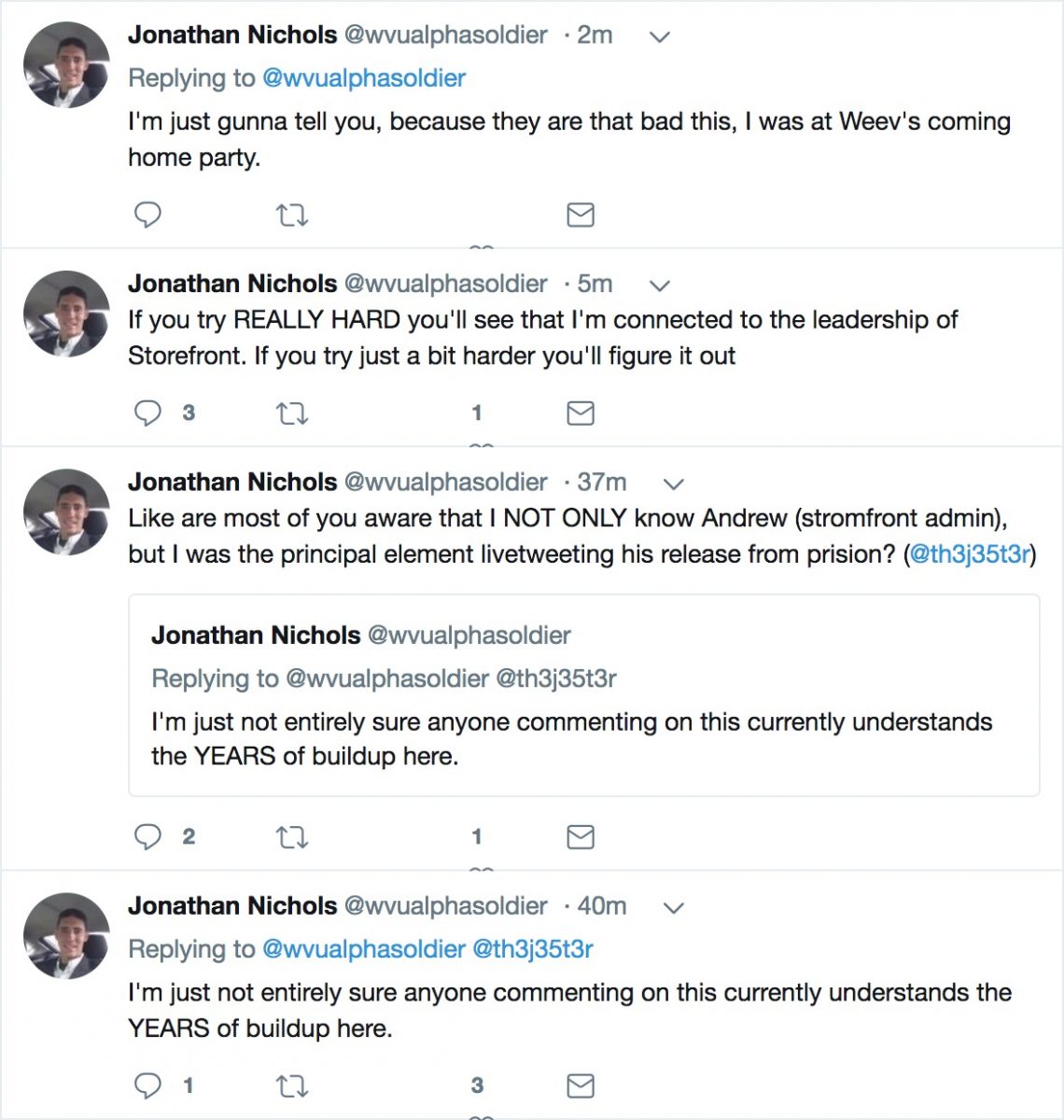 Weev spent a year in prison for identity fraud and conspiracy to access a computer without authorization after he exploited a hole in the security system of Apple's iPad. While the infamous hacker has long been known as a troll who says offensive things for the sake of saying offensive things, weev emerged from prison as an outright white supremacist and penned an article explaining why he hates Jews and black people.
And yet, just five months ago, Reid's security expert bragged about personally knowing the hacker who helps run The Daily Stormer and thinks "Whites [should] be supreme in" America.
Nichols, who calls himself "an Information Operations soldier" on his LinkedIn page, also claims his "background is in military propaganda." In a since-deleted tweet, he even touted his ties to the 2011 US attack on Libya.
"Nah, I'm a senior leader,I'm a senior PSYOPer. I find your civilian disruption to be cute. By way of example, I could have influenced the propaganda mission of Libya. I chose not to," tweeted Nichols — referencing the US military involvement in Libya that resulted in the killing of Muammar Gaddafi and the country's ongoing civil war.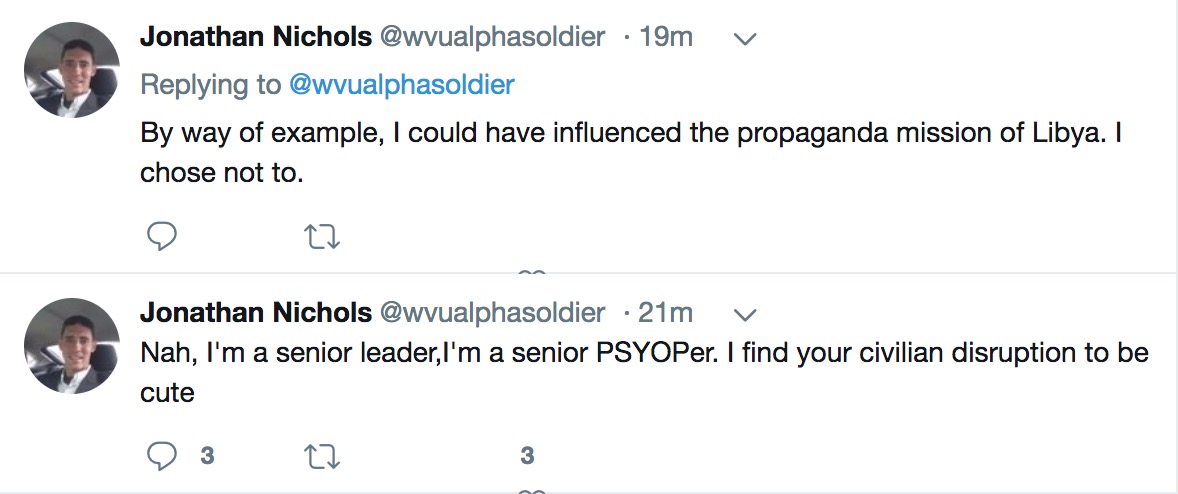 In another old tweet, Nichols brought up his "combat" experience and said he participated in the Women's March, since "I fight so people can hold marches in democratic societies."
Despite his new professional ties to the liberal #Resistance icon Reid, Nichols tweeted during the 2016 election that "[Hillary] Clinton might well be arrested" and that he supported a Trump verses Bernie Sanders match-up. Though, an old Twitter bio reveals Nichols' political affiliation as "center left with bouts of conservative logic."
He also appears to believe some of the more fringe liberal conspiracies regarding the 2016 presidential race, given his claim that the election "was literally rigged FOR [Trump]."
Other strange posts from Nichols include a thread in which he brags about hacking the sports network ESPN.
"I then realized everyone using that instance of software was vuln and then hacked a few other things (including ESPN)," tweeted Nichols in December 2017. "When I did it, the activity wasn't criminal, so fuck off."
He continued by saying he gave up on hacking his "Junior Year of High School….for vagina."
Since being hired by Reid to prove that she did not attack gay marriage and defend cringing "at the sight of two men kissing," Nichols' hasn't toned it down on Twitter. Instead, he's responded to seeing his name in the news by talking about himself in the third-person and tweeting at reporters.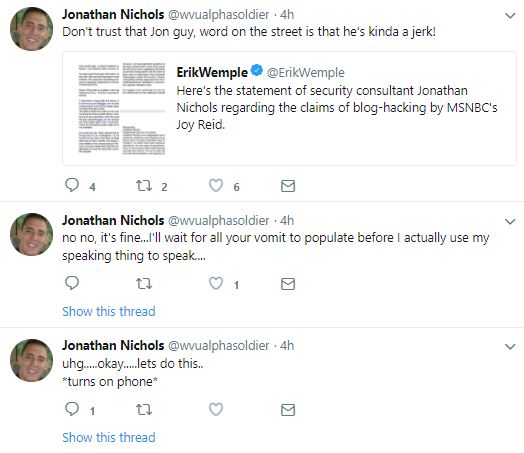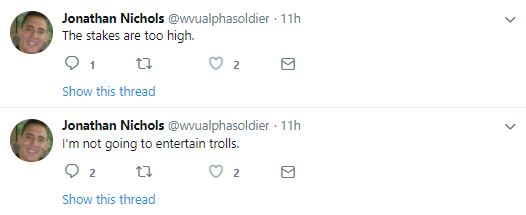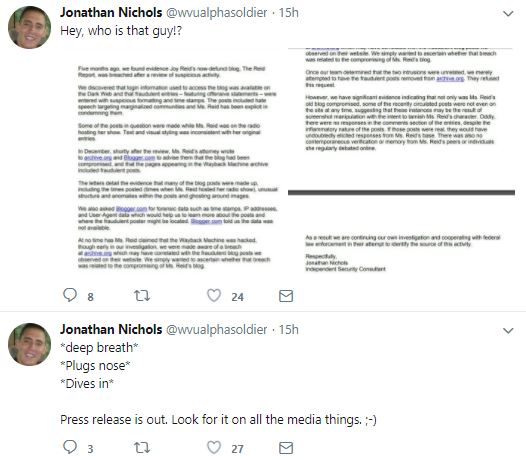 As for Reid's troubles, her explanation for the posts took a bruising yesterday after the Wayback Machine — an Internet archive where the homophobic posts were found — released a statement saying they "found nothing to indicate tampering or hacking of the Wayback Machine versions." This response, coupled with the general widespread skepticism over her hacking claim, resulted in the LGBTQ advocacy group PFLAG National rescinding an award that Reid was slated to accept next month.
Nichols claims, however, he has "significant evidence" proving these posts, which date back to 2003-2007, were not authored by Reid. In a statement, the contractor wrote that he "discovered that login information used to access the blog was available on the Dark Web and that fraudulent entries — featuring offensive statements — were entered with suspicious formatting and time stamps."
"At no time has Ms. Reid claimed that the Wayback Machine was hacked, though early in our investigation, we were made aware of a breach at archive.org which may have correlated with the fraudulent blog posts we observed on their website," Nichols added. "We simply wanted to ascertain whether that breach was related to the compromising of Ms. Reid's blog."
He has doubled-down in supporting Reid on Twitter: "Hey, seriously, to all my Info Sec friends, I wouldn't be covering down on Joy Reid if I didn't actually believe her. My morality isn't for hire. I think most of you know that."
This controversy comes just four months after Reid, who hosts a weekend for MSNBC, admitted to and apologized for writing numerous homophobic posts about Congressman Charlie Crist in 2007, 2008, and 2009.
NBC and Nichols were contacted by Mediaite for comment regarding the contractor's affiliations to Nazis, but did not receive a response in time for publication.
UPDATE: 2:40 p.m.: Nichols responded to Mediaite's story on Twitter, noting that he did attend Weev's release from prison, adding that others in "Cybersecurity" attended the "coming home party."
I very much did livetweet Andrew's release from prison. https://t.co/lNg4tKDglw

— Jonathan Nichols (@wvualphasoldier) April 25, 2018
@TorEkelandPC was his lawyer at the time. Many of us in Cybersecurity in the NYC area were at his coming home party.

— Jonathan Nichols (@wvualphasoldier) April 25, 2018
"I was not aware of any connections to his current bigoted views at that time," Nichols added. It must be noted that while Weev supposedly became a white supremacist during his time in prison, he was already known for "racism, antisemitism, and other forms of inflammatory hate speech," according to Gawker.
I find his current views abhorrent. I was at his coming home party in support of his legal position, well previous to any indication that he was a jerk.

— Jonathan Nichols (@wvualphasoldier) April 25, 2018
[images via screengrab]
Follow the author on Twitter (@calebecarma).
Have a tip we should know? tips@mediaite.com