Judd Apatow: 'Easier to Ignore' Woody Allen's 1 Accuser than Bill Cosby's 40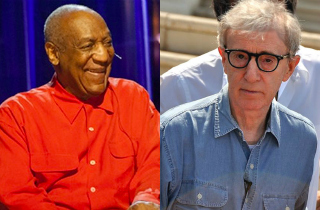 Judd Apatow's voracious media tour to promote both his new book, Sick in the Head: Conversations About Life and Comedy
and new movie, Trainwreck, continued on Tuesday with the publication of Jonah Weiner's extended interview in Rolling Stone. And, as it always does, Apatow's ongoing criticism of Bill Cosby came up.
But this time, his interviewer framed the question in a new way: "Why do you think the sexual-assault charges finally stuck against [Cosby], in the realm of public opinion, in a way that they didn't stick with, say, Woody Allen, when his daughter Dylan asserted repeatedly that he molested her?"
In both instances, new information about decades-old sexual assault rumors emerged with alleged victims speaking out against the legendary comedians. In Woody Allen's case, his daughter Dylan Farrow spoke out for the first time last year about her father's alleged molestation of her that she says occurred when she was seven years old. Through a representative, Allen vigorously denied those allegations.
But for Cosby, there is not just one accuser, but more than 40 women, who have all gone public with similar stories over the past year about how the comedian drugged and raped them under the guise of providing professional support. And, in a recently unveiled 2005 deposition, Cosby actually admitted to obtaining Quaaludes with the intention of drugging women. In Apatow's mind, it is the "sheer numbers" that separate the two men.
"I think people don't seem to want to believe women who are attacked. I don't know if it's that we just don't want to believe terrible things happen, especially when people we love are accused — like, How can my favorite person in the world do it? It's much easier not to believe the accuser," he told Rolling Stone. "With Cosby, for a while people were thinking, 'They're all gold diggers.' And at some point enough women came forward that the world knows this happened and that he is clearly some sort of sociopath. With Woody Allen — you can't compare all the cases, but the sheer numbers effect it. It's very sad when someone like Dylan comes forward and doesn't get the level of support she deserves, but it might be easier to try to ignore her than it is to ignore all the women who accused Cosby."
As for whether he is able to "separate the art from the artist" in cases like these, Apatow said, "No. Not at all."
"Obviously you have to make sure things are true. Everything everyone says isn't true," Apatow added. "But if you don't believe women or take their accusations very, very seriously, women will not speak up. And if women don't speak up more women will be raped. So it's really all about preventing other people from getting hurt, because Cosby's on tour — ignoring all of the victims is a signal to other victims that when you speak up, people will not take care of you and do something about it."
[Photo via screengrab/Wikimedia Commons]
— —
>> Follow Matt Wilstein (@TheMattWilstein) on Twitter
Have a tip we should know? [email protected]