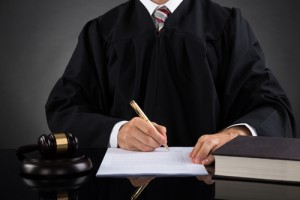 A judge in Tennessee has dismissed a divorce case on the grounds that the Supreme Court's ruling on same sex marriage has negated his state's ability to accurately define divorce.
According to Hamilton County Chancellor Jeffrey Atherton's decision, Thomas and Pamela Bumgardner can not viably apply for divorce in Tennessee since Obergefell v. Hodges through a rather large legal monkey wrench into the system.
The current legal situation "leaves a mere trial level Tennessee state court judge in a bit of a quandary," writes Atherton in his Bumgardner v. Bumgardner ruling.
"With the U.S. Supreme Court having defined what must be recognized as a marriage, it would appear that Tennessee' s judiciary must now await the decision of the U.S. Supreme Court as to what is not a marriage, or better stated, when a marriage is no longer a marriage."
Atherton concludes that, after four days of testimony making the case for the Bumgardner's mutual reasoning of "irreconcilable differences," the marriages is not "irretrievably broken" and can be saved.
Neither the judge, the Bumgardners, nor their respective attorneys have commented on the ruling publicly. However, Regina Lambert, who represented the Tennessee plaintiffs in Obergefell v. Hodges, told the Chattanooga Times that Atherton's decision was nothing more than a "statement."
"Overall, Tennessee has had a fantastic response to this Supreme Court decision," said Lambert. "He is just making a statement. I just think change is hard for people."
Yet with the national attention Rowan County Clerk Kim Davis has been getting for refusing to issue marriage licenses in Kentucky, there's a good chance that Atherton's statement is going to enter the burgeoning national discussion about how to handle those who still oppose the SCOTUS decision.
In all honesty, that's probably what the Tennessee judge wants.
[h/t Raw Story, the Chattanooga Times]
[Image via Shutterstock.com]
— —
>> Follow Andrew Husband (@AndrewHusband) on Twitter
Have a tip we should know? [email protected]