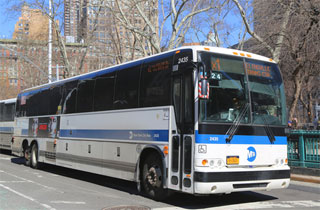 A New York judge ruled today that the Metropolitan Transit Authority — a.k.a. NYC's public transit — must run a pro-Israel group's controversial ads, widely considered to be anti-Jihad, that could allegedly incite violence against Jewish people.
According to the New York Times, Judge John G. Koeltl said that the ad, commissioned by the American Freedom Defense Initiative, was protected speech and could therefore run on MTA property (as long as the MTA does not appeal). "While the court is sensitive to the M.T.A.'s security concerns, the defendants have not presented any objective evidence that the 'Killing Jews advertisement' would be likely to incite imminent violence," he wrote.
"The defendants underestimate the tolerant quality of New Yorkers, and overestimate the potential impact of these fleeting advertisements," he added.
Ah, right. The ads in question, which will be displayed on buses and in subway stops, will look like this:
Ad saying 'Killing Jews is worship' will not be banned from New York buses: http://t.co/o7rVOxcuOc pic.twitter.com/GJ067FZBls

— Christian Today (@ChristianToday) April 22, 2015
Very controversial! The president of the American Freedom Defense Initiative, Pamela Geller, applauded the decision as "a "triumph for liberty and truth." Meanwhile, the MTA may appeal the ruling, and the Times describes them as "disappointed".
The Times notes that Geller's group has run similar ads on MTA property before, and that this iteration was a jab at a similar campaign:
The set of ads was intended to parody a "My Jihad" campaign by the Council on American-Islamic Relations. Those "My Jihad" ads portrayed jihad as a concept of nonviolent individual and personal struggle.
[h/t Gothamist]
[Image via Leonard Zhukovsky / Shutterstock.com]
—
>> Follow Tina Nguyen (@Tina_Nguyen) on Twitter
Have a tip we should know? tips@mediaite.com