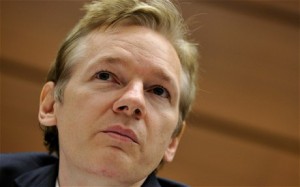 WikiLeaks chief Julian Assange told The Guardian that he believed there is a "high chance" that he'd be killed in prison if he were to be extradited to a US jail on espionage charges. Jack Ruby died of lung cancer while serving in prison for killing Lee Harvey Oswald, the suspected assassin of President John F. Kennedy. While Assange appears to have his U.S. historical figures confused, his point remains.
Agence France-Presse reports (via Raw Story):
Assange told The Guardian it would be "politically impossible" for Britain to send him across the Atlantic, adding that the government of Prime Minister David Cameron would want to show it had not been "co-opted" by Washington.

"Legally the UK has the right to not extradite for political crimes. Espionage is the classic case of political crimes. It is at the discretion of the UK government as to whether to apply to that exception," he said.

He said US authorities were "trying to strike a plea deal" with Bradley Manning, the US army soldier suspected of providing WikiLeaks with the cables.

Assange added that if the United States succeeded in getting him extradited from Britain or Sweden, then there was a "high chance" of him being killed "Jack Ruby-style" in an American prison.

Ruby, a nightclub owner, shot dead Lee Harvey Oswald at a police station in Dallas, Texas days after Oswald was arrested for the assassination of US President John F. Kennedy in 1963.
U.S. authorities have spoken openly about extraditing Assange on espionage charges, though it is still unclear how what, if any, U.S. laws he's broken. Assange has already said that he has from US lawyers "that there may be a US indictment for espionage for me coming from a secret grand jury investigation."
Have a tip we should know? tips@mediaite.com
Colby Hall - Founding Editor