Julian Assange: Prosecute Palin, Limbaugh And Huckabee For "Incitements To Kill"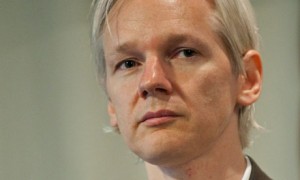 Last night, WikiLeaks posted a press release entitled "WikiLeaks: treat incitement seriously or expect more Gabrielle Gifford killing sprees." In it, they also decried the violent rhetoric that has been much discussed since the shooting this past Saturday. However, Julian Assange has a slightly different perspective than most, considering many in the media have actively called for his death and in terms much less subtle than bullseyes on any maps.
From the press release:
"WikiLeaks staff and contributors have also been the target of unprecedented violent rhetoric by US prominent media personalities, including Sarah Palin, who urged the US administration to 'Hunt down the WikiLeaks chief like the Taliban'. Prominent US politician Mike Huckabee called for the execution of WikiLeaks spokesman Julian Assange on his Fox News program last November, and Fox News commentator Bob Beckel, referring to Assange, publicly called for people to 'illegally shoot the son of a bitch.' US radio personality Rush Limbaugh has called for pressure to 'Give [Fox News President Roger] Ailes the order and [then] there is no Assange, I'll guarantee you, and there will be no fingerprints on it.', while the Washington Times columnist Jeffery T. Kuhner titled his column 'Assassinate Assange' captioned with a picture Julian Assange overlayed with a gun site, blood spatters, and 'WANTED DEAD or ALIVE' with the alive crossed out."
The press release later quotes Assange himself, who calls on US authorities to respond "by aggressively prosecuting these and similar incitements to kill."
Supporters of the organization have long been documenting all of alleged threats against Assange. A few weeks ago, a website called People OK with Murdering Assange began making the rounds. It uses a similar set up to the site What the F**k has Obama Done So Far?, which became popular around the time of the midterm elections by giving readers random links detailing all of the President's accomplishments in office. The new site does the same thing with random quotes calling for Assange's assassination. The WikiLeaks press release actually links to People OK with Murdering Assange at the end.
In his quotes, Assange points out that his organization is the most "devoted advocate of free speech" in the world, but says that public officials and commentators calling for the death of others is over the line. Over at The Raw Story, they guessed that some might find this hypocritical. What do you think?
Have a tip we should know? tips@mediaite.com