Dem And GOP Groups Battle Over CA Race With Arrested Development And Mean Girls References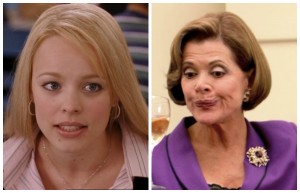 Politicians these days never miss a trick to show the people they represent that they GET IT. They have the same likes and dislikes as us. They watch the same TV we watch. And in the fight over the race in California's 31st district, both sides have shown they can be cool. Which is why on the liberal side, they're attacking the GOP incumbent with an Arrested Development quiz, and on the Republican side, they're basically comparing one of the Democratic candidates to the main mean girl from Mean Girls.
If you're like me, you're excited for the return of the Bluth family this Sunday, but if you're like the liberal Super PAC American Bridge 21st Century, you're excited for the opportunity to use the return of a critically-beloved show to go after your political opponents. Hence their Miller or Bluth? website. The site is targeting Gary Miller, the Republican currently serving California's 31st congressional district, ahead of next year's race to unseat him. The site asks you to choose which person committed the wrongdoing in question: Miller, or a member of the Bluth family.
For example: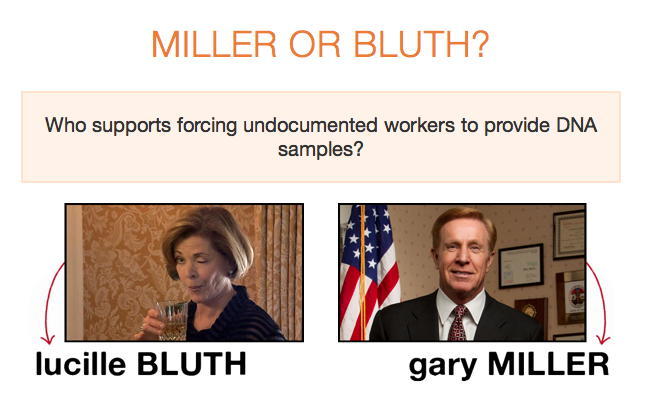 One thing that's been very noticeable over the past few days is all the painfully forced Arrested Development political analogies people are making ahead of the new season. The Huffington Post did it, BuzzFeed did it, and American Bridge 21st Century really OVERdid it.
Miller's ethical lapses could have been taken straight from the Bluth Company's business model. His deal encouraging the city of Monrovia to buy his land was a lemon. Miller claimed a tax deduction under threat of eminent domain despite the state's "no touching" policy. And it was neither a trick nor an illusion when he arranged legislation to benefit his largest campaign donors, then borrowed money from them to buy land.
On the other side of the aisle, the National Republican Congressional Committee has their own forced AD political analogy (though I like the Clinton one at the end), but they decided to go more old-school in attacking the likely Democratic candidate for Miller's seat, Joe Baca. The post attacks Baca for already stirring up Democratic party infighting ahead of the district race, and includes this GIF.
Just wait for the general election, when both sides start waging wars with LOLcats and Avengers references. Or maybe they've already exhausted all the good references and prematurely shot their wad on what was supposed to be a dry run.
—–
Follow Josh Feldman on Twitter: @feldmaniac
Have a tip we should know? tips@mediaite.com
Josh Feldman - Senior Editor