Kansas Senator Equates Planned Parenthood Donation to Being Associated with Nazi Death Camp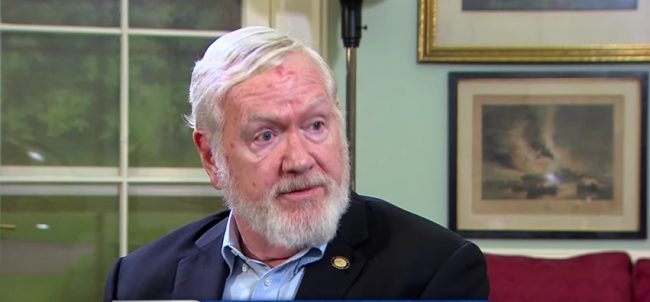 Steve Fitzgerald, a Republican Senator from Kansas, doubled down on his comments regarding a recent donation to Planned Parenthood made in his name.
The Kansas City Star reported Monday that Ali Weinel had made a $25 donation to the organization in Fitzgerald's name. Weinel had apparently e-mailed the Senator to express her concerns about the abortion legislation he had sponsored this session. Unhappy with his response and looking for another course of action, Weinel made the donation to the reproductive health services group.
After receiving a letter from the organization informing him of the donation made in his name, Fitzgerald responded with a letter of his own.
Sen. Fitzgerald did NOT appreciate having a donation to @PPGreatPlains made in his honor. Just FYI. https://t.co/raCPC9b3nX #ksleg #heinous pic.twitter.com/D5AbOgRfLM

— PP Great Plains KS (@PPGreatPlainsKS) March 10, 2017
In his reply likens the donation being made in his name to "being associated with Dachau," the first death camp implemented by the Nazi's, continuing by saying "shame on anyone that would attempt to blacken my name in this manner."
In an interview with the Kansas City Star on Monday, Fitzgerald refused to walk back his earlier comments. "It was either send them that or ignore it," the Senator said. "I figured, I don't want my name associated as a donation to Planned Parenthood, in my name, to go on undenounced by me."
The Republican from Kansas would go further still by claiming the donation — and resulting letter from Planned Parenthood — to be "harassment" and "political theatre."
He would round out the interview with an odd metaphor: "If somebody made a donation to the Ku Klux Klan in your name and published it, how would you feel? What would you do? How would you react?"
[image via screengrab]
——
Adam: Twitter.
Have a tip we should know? tips@mediaite.com