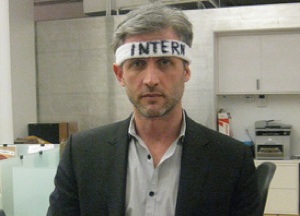 The most recent issue of New York Magazine features a cover story which outlines the last few years of the cable news wars. The thorough and, at times, rambling essay features lots of inside dope on Jon Klein's career at CNN as well as his dalliance with MSNBC's Keith Olbermann. While we've summed up many of the interesting parts already, one factoid that stuck out was that Mediaite founder Dan Abrams is alleged to have suggested "Keepin' It Real" as a future tagline for MSNBC while he was General Manager. Our reaction? Awesome!
The editorial staff at Mediaite has forever been searching for the right tagline that best sums up the editorial mission of our site. "Yet ANOTHER Media Site" and "Glenn Beck Is Our Business" were both really good, but lacked a certain "je ne sais quoi." Then, while sitting around the Internet this morning, reading the news feeds collectively as is our Monday morning tradition, we came across the brilliant nugget in Gabriel Sherman's New York Magazine essay. Keepin' It Real? Indeed!
As Dan returned from the MSNBC studios (where he was allegedly taping some "news segments") he was greeted at our office with an impromptu ovation. High fives and tears of joy were interspersed with shouts of "Keepin' it Real! Can we use that?!" Alas, the always modest Abrams disappointed us with the admission that, in fact, he had chosen "MSNBC: The Place for Politics" instead of a host of other awesome taglines.
Dan said "In the spirit of keepin' it real, I actually rejected that slogan in favor of 'The Place For Politics,'" which appears to have been the tagline at least as of October 2006. Abrams added "I had created and then implemented weekly 'all politics' days that were so successful that I felt it should be the brand." Abrams concluded, "but suffice it to say, I'm honored to have been attached with a motto that will forever be lionized in the annals of marketing genius."
Blah blah blah…yeah, whatever. "Keepin' it real" is double-rainbow awesome and we're planning on a recurring weekly feature.
Have a tip we should know? tips@mediaite.com