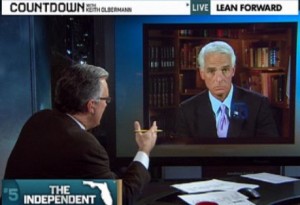 Politico reported yesterday that former President Bill Clinton had called on Senate candidate Kendrick Meek (D-FL) to drop out of Florida's three-way race, clearing the way for Gov. Charlie Crist (R/I-FL) to defeat Republican candidate Marco Rubio. According to the report, Meek agreed, then backed out. The Meek campaign strongly denies this.
Gov. Crist appeared on Countdown last night to discuss the story, and in a remarkable twist, the Meek campaign pushed back in real-time by using host Keith Olbermann as their proxy.

The bulk of the interview is pretty standard stumping for Crist, a Republican who turned Independent when it became clear he would lose his party's primary to Rubio. As an independent, he stood a better chance to defeat Rubio in the general election by combining his support from Republican voters with Democrats interested in preventing a Rubio win.
Crist cast the decision as the result of political soul-searching, and Olbermann never challenges the notion, nor does he brace Crist on reports that the alleged deal with Meek included assurances that Crist would caucus with Senate Democrats if he wins.
At about the 6-minute mark, however, Olbermann reveals that the Meek campaign has "been in touch" with the show, and wants to ask Crist a question by proxy: "How would (Governor Crist) know that there had been conversations about Mr. Meek dropping out?"
"Because I had numerous phone calls with people very close to President Clinton," Crist responded.
The most obvious follow-up in would be to ask which people, or if Crist had spoken with Clinton directly about the deal, but Olbermann asked neither.
The purpose of the interview, and Olbermann's interest in Crist, seems to be to defeat Rubio, but there's no reason he couldn't have also forced Crist to make a better case to Democrats than "Hey, I'm not as crazy as that guy."
Update: Greta Van Susteren, on the other hand, did grill Crist on the details of this story, extracting the name of the Clinton aide with whom Crist discussed the Meek deal, Doug Band. (h/t Johnny Dollar)
This is an opinion piece. The views expressed in this article are those of just the author.