Keith Olbermann Returns To ESPN After 16 Years, Contract Forbids Him From Discussing Politics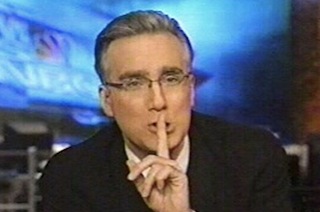 After weeks of rumors that the ex-ESPN, ex-Fox Sports Net, ex-MSNBC, ex-Current TV host would be returning to the Bristol-based sports network, it's official: Keith Olbermann will host his own show on ESPN2.
There's just one catch: no politics. The two-year contract allows Olbermann to deviate from the topic of sports, into realms such as "pop culture and current events," but explicitly forbids the tempestuous host from discussing political matters. (Olbermann could probably park a Cadillac in the loophole between current events and politics, but that's Disney's problem now.)
The New York Times reported that the new hour long show is the result of fourteen months of negotiations between Olbermann and ESPN's parent company Walt Disney. Some at ESPN objected to the hiring, arguing that "Olbermann was part of the network's past, not its future," but the Times said that Olbermann's potential presence on a network gearing up to compete with the impending Fox Sports 1 was too much to pass up.
Olbermann, who came up through the ranks as a sportscaster for KTLA, hosted ESPN's Sports Center for between 1992 and 1997, helping launch ESPN2 in the duration, before parting ways with ESPN in a nasty dispute in 1996 that would serve as a template for many of his subsequent media departures.
He went on to make his name at MSNBC, where his pugnacious commentary on Countdown animated the liberal network into competition with pugnacious-before-breakfast Fox News. Olbermann and MSNBC split after the network suspended him for making unauthorized political contributions. He then had a brief tenure at Al Gore's Current TV, which he left acrimoniously as well.
Olbermann is set to host Turner-owned TBS' postseason MLB coverage; no word on whether the two contracts conflict.
Read the full article HERE, via New York Times.
—
>> Follow Evan McMurry (@evanmcmurry) on Twitter
Have a tip we should know? [email protected]