Keith Olbermann Returns To Video Naming Glenn Beck 'Worst Person Of The Day'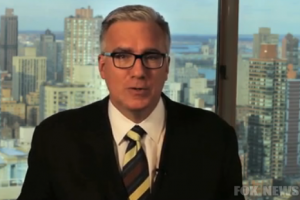 In his first ever online edition of the "Worst Persons of the Day," Keith Olbermann returned to a role in front of the camera for his FOK (Friends of Keith) News Channel, and demonstrated that he is clearly itching to do it again on a full-time basis. Although today's targets were not hard to predict, at least with Olbermann, viewers often can get a few unexpected chuckles from his confident and over-the-top commentaries.
Olbermann awarded the bronze medal to Fox News "actress" Jennifer Griffin for her controversial report that journalists were being used as "human shields" in Libya. Also deserving of special mention was CNN's Nic Robertson, who Olbermann faulted for disputing Griffin's report. Robertson claimed he couldn't believe journalists would make such outrageous statements, to which Olbermann responded, "oh Nic, they're not journalists, they're Fox."
The silver medal went to Rev. Franklin Graham for "continuing his father Billy's ministry of divisiveness, condescension, fear-mongering and cash in easy-to-carry packets" and for being "even dumber and more racist" than his father. And last but certainly not least, was Glenn Beck receiving the gold medal for his continued apocalyptic theories. Olbermann, attempting a Beck impersonation, read a quote from Beck that "the world is about to be plunged into complete and utter darkness, despair and famine." Olbermann claimed such a statement is old news since that day already happened when Beck's show premiered on Fox News. For better or worse, Olbermann promised his fans and critics that he will be back in "late Spring," but whether Olbermann and his tripod will be back again before then remains to be seen.
Watch the video below from FOKNewsChannel:

Have a tip we should know? tips@mediaite.com