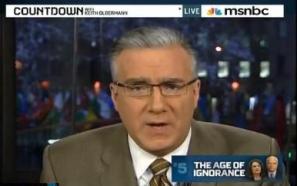 While Sarah Palin was making her debut on Fox News on The O'Reilly Factor, MSNBC's Keith Olbermann was discussing the hiring during his 8pmET show.
Here are a few of Olbermann's pre-debut thoughts – and some comments from other TV critics after Palin's first appearance aired.
Olbermann referenced FNC VP Bill Shine's quotes about Palin's hiring to the Los Angeles Times, when he said "She is one of the most talked about and politically polarizing figures in the country. First off, we hope she brings that."
"If polarizing were to mean Palin might not tell the truth on the air, the same way she floated the false assertion of death panels on her Facebook page that's also apparently high on the Fox News Palin wish list," said Olbermann.
The MSNBC host brought up colleague Ed Schultz, whose name was floated to run for Senate in North Dakota (he said no) and some on the right pressed to get him off the air if that would be the case. "How could the Federal Elections Commission let her and Fox erase that 'no candidates on TV' line?" asked Olbermann to his guest, Richard Wolffe.
"There's a curious combination of politics and media going on at Fox News now, that somehow positions Roger Ailes as a Silvio Berlusconi," said Wolffe.
Olbermann got one more shot at Fox News in general: "We've seen the YouTube videos of her brief sportscasting career so clearly she's over-qualified to be an analyst at Fox News."
And all this was before she made her debut. Get ready to see Palin not only be a frequent Fox News guest, but to make frequent appearances on Countdown's "Worst Persons" segment as well.
Here are a few more reviews from actual TV critics (via Johnny Dollar):
• The New York Daily News' David Hinckley thought it went smoothly. "The former Alaska governor has become skilled at maintaining her composure, and it was clear Tuesday night she enjoyed being where she knew almost all the audience was 'us,' not 'them,'" he wrote.
• Newsday's Verne Gay put it to a grade – just a C+: "Maybe nerves were to blame, or the blunt fact that she is suddenly the highest profile commentator in the history of Fox News. But Palin needs work. She needs to smile more. She needs to slow down. She needs to get off her talking points."
• David Zurawik of the Baltimore Sun put it bluntly, headlining his review with "Prime-time Propaganda." He writes: "What a pair and what an awful politicization of TV news."
Here's Olbermann on Palin:


—–
» Follow Steve Krakauer on Twitter
Have a tip we should know? tips@mediaite.com