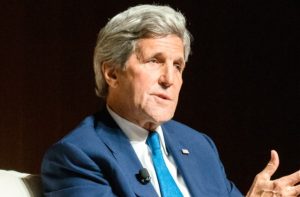 Secretary of State John Kerry made it clear in an interview with The Boston Globe this past weekend that it was hard for him to bite his tongue so much during the campaign season.
He told the Globe, "You can imagine, it was very hard to sit there during the presidential race and bite your tongue and lip and stay silent. As of Jan. 20, I don't have to do that anymore."
Now, that's not to say he was completely silent. On one occasion, he said that the Republican primary race was shocking to the world and that it was "an embarrassment to our country." And in his commencement address at Northeastern University, he said, "You are the most diverse class in Northeastern's history. In other words, you are Donald Trump's worst nightmare."
Now that Trump is going to be the next President of the United States, Kerry is obviously more modulated in how he's talking about him:
Kerry remains diplomatic when questioned about Trump's plans. "There are a lot of things that get talked about in the course of a campaign," he said. "How many people have run for office saying I'm going to do this and that?"

Kerry believes the Iran deal "will stand on its rationale." He praised as thoughtful some of Trump's nominees, including defense secretary nominee James Mattis and Rex Tillerson, who Trump has selected to be Kerry's successor.
He told the Globe that he won't dare guess what Trump will do, but did note, "Governing is very, very different when you're confronted with the realities."
The Secretary of State also spoke out about a number of other issues ranging from America's leadership role in the world to Aleppo, given the horrors happening there in recent days. He said, "The Russians and Assad are basically throwing everybody into the same pot and acting way outside of any decent standard of warfare… and challenging all of the norms of expected humanitarian behavior."
You can read the full interview here.
[image via stock_photo_world/Shutterstock]
— —
Follow Josh Feldman on Twitter: @feldmaniac
Have a tip we should know? tips@mediaite.com
Josh Feldman - Senior Editor