KKK Leaders See Current Political Climate As Encouragement to Unify and Mobilize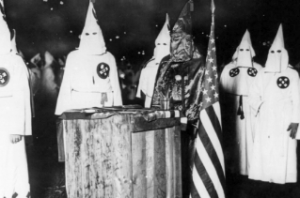 The Associated Press has been working on a deep investigation into the Ku Klux Klan, which they say is not as defunct and laughable as many assume it is in this day and age.
There are, of course, those who are known members or former members of the group, like David Duke, who has endorsed Donald Trump for president. That doesn't mean that the overall organization has any sort of leadership or unification…yet.
The political climate that caused Duke to get excited about Trump is the same one that has splintered white nationalist groups thinking that their time might have finally come.
Brent Waller, imperial wizard of the United Dixie White Knights in Mississippi, told the AP that the plan is to unify this summer. From the AP:
In a series of interviews with The Associated Press, Klan leaders said they feel that U.S. politics are going their way, as a nationalist, us-against-them mentality deepens across the nation. Stopping or limiting immigration — a desire of the Klan dating back to the 1920s — is more of a cause than ever. And leaders say membership has gone up at the twilight of President Barack Obama's second term in office, though few would provide numbers … Klan leaders told the AP that most of today's groups remain small and operate independently, kept apart by disagreements over such issues as whether to associate with neo-Nazis, hold public rallies or wear the KKK's trademark robes in colors other than white.
Still, Mark Potok of the Southern Poverty Law Center acknowledged that while the KKK can be violent today, it's not as bad as it used to be when there was real organization. Further, "The idea of unifying the Klan like it was in the '20s is a persistent dream of the Klan, but it's not happening," he said.
Local Klan leaders maintain that people like Potok are wrong. They see 2016 as their year. One of them, Thomas Robb, of Alabama, said that the idea to "build a wall" was started by the Klan 40 years ago. Others, like North Carolina's Chris Barker, are claiming to have thousands of members in their Klaverns. Barker says his group as 3,800 members.
The Anti-Defamation League, on the other hand, estimates that Barker's group has about 200 members and that there are only 3,000 nation-wide.
Obviously, there are conflicting beliefs when it comes to everything about the KKK. From how big they really are to whether they can get organized as this election season wears on, the AP report wasn't able to conclude anything beyond the fact that local chapter leaders have been energized by what they've seen in the news and in their communities.
Read the whole thing here.
[image via Library of Congress's Prints and Photographs division]
For more from Lindsey, head to Twitter or Facebook.
Have a tip we should know? [email protected]