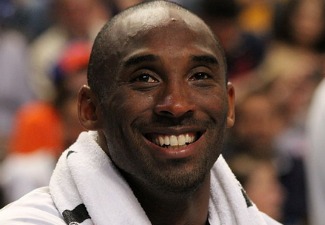 L.A. Lakers player Kobe Bryant opened up in a new interview with The New Yorker, and one of the issues they touch on is Trayvon Martin and how members of the Miami Heat wore hoodies in his memory two years ago. Bryant admitted he's not comfortable with the idea of being compelled to defend someone just because they're black, saying he would rather just sit back and wait for all the facts to come out before passing judgment.


The relevant passage is only available to New Yorker subscribers, but ColorLines reposted it in its report on Bryant's remarks.
I won't react to something just because I'm supposed to, because I'm an African-American," he said. "That argument doesn't make any sense to me. So we want to advance as a society and a culture, but, say, if something happens to an African-American we immediately come to his defense? Yet you want to talk about how far we've progressed as a society? Well, we've progressed as a society, then don't jump to somebody's defense just because they're African-American. You sit and you listen to the facts just like you would in any other situation, right? So I won't assert myself."
Bryant's remarks have already spawned a flurry of Twitter backlash, including from MSNBC contributor Goldie Taylor.
Kobe could've just shouted out love for Trayvon's parents, said he couldn't imagine their loss and kept it breezy. He didn't.

— Goldie Taylor (@goldietaylor) March 27, 2014
My issue is that Kobe reduces the Trayvon Martin outrage to blind racial solidarity, when it was about so much more than that.

— Jemele Hill (@jemelehill) March 27, 2014
I'm annoyed (not surprised) by Kobe's stance on Trayvon. We support Martin b/c his race predetermined his fate. Not simply b/c he was black.

— rebkah howard (@pink_funk) March 27, 2014
I'm hoping that Kobe didn't know anything about the Trayvon Martin case. People didn't support Trayvon solely because he was black.

— Jahmaiah… (@touchthaskye) March 26, 2014
[h/t NewsOne]
[edited photo via Christopher Johnson]
— —
Follow Josh Feldman on Twitter: @feldmaniac
Have a tip we should know? tips@mediaite.com
Josh Feldman - Senior Editor