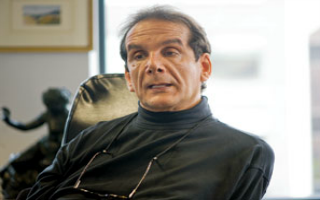 Syndicated columnist Charles Krauthammer's latest column takes Mitt Romney's presidential campaign to task for playing inexplicably small ball against Presidents Barack Obama. Krauthammer writes that Romney has opted to take every opportunity he has been given in the last two months to make broad thematic cases against Obama and has chosen to make small critiques rather than presenting a credible alternative.

Krauthammer critiqued Romney's statement on the Cairo Embassy's apology for an anti-Islamic YouTube video – not, like so many in the press, because it was somehow premature, but because it was not paired with a grander statement on the direction of U.S. foreign policy.
He took on Romney's speech this week to the Clinton Global Initiative where he advocated for a reformation of America's foreign aid regime. Romney said that foreign aid should be tied to reforms by foreign governments on trade as well as an increase in property and free-speech rights.
"Yes, reforming foreign aid! A worthy topic for a chin-pulling joint luncheon of the League of Women Voters and the Council on Foreign Relations," Krauthammer writes. "But as the core of a challenger's major foreign-policy address amid a Lehman-like collapse of the Obama Doctrine?"
It makes you think how far ahead Romney would be if he were actually running a campaign. His unwillingness to go big, to go for the larger argument, is simply astonishing.
Krauthammer writes that Romney's smallness is potentially fatal – in fact, it is likely fatal given how far behind he is in the polls. " Even his counterpunching has gone miniature," Krauthammer writes. "Romney has accumulated tons of cash for 30-second ads. But unless they're placed on the scaffolding of serious speeches making the larger argument, they will be treated as nothing more than tit for tat."
Krauthammer concludes that it is not too late to turn the ship around – he must go large, make broad cases for change on a grand scale and change the conversation with several major policy speeches. If, however, Romney continues on a course of passivity, he appears destined for defeat.
Read the full column via the Washington Post
> >Follow Noah Rothman (@Noah_C_Rothman) on Twitter
Have a tip we should know? tips@mediaite.com