Kushner Reportedly Wanted Aides to Call Cable News to Complain About Chyrons on Don Jr.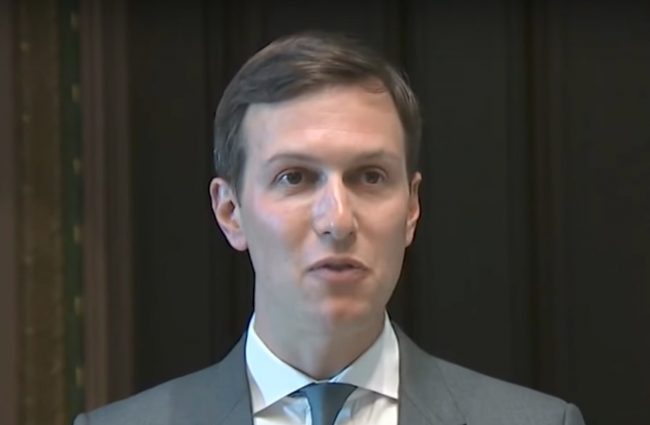 While much of the focus this week has been on Donald Trump Jr. and the revelation that he arranged a meeting with a Russian lawyer to get dirt on Hillary Clinton from the Russian government, another person caught up in this story has been White House senior advisor and Trump Jr.'s brother-in-law Jared Kushner.
And Kushner, it appears, isn't too happy with the way the White House's communications team has been handling this whole scandal. According to Politico, Kushner has been pushing aides to publicly and forcefully defend the meeting that both he and Trump Jr. attended. However, per Politico's White House sources, he is encountering pushback.
One thing that Kushner has attempted to get those in the press shop to do is call up cable news channels to complain. About what? Their chyrons, that's what.
From Politico:
A source close to Kushner, Trump's son-in-law and a top White House adviser, said that while he doesn't have an exact plan for an overall Russia response, he was angry that there wasn't a more robust effort from the communications team. Kushner wanted them to complain about chyrons on cable news, call reporters to update stories with White House statements, and unleash surrogates immediately. He was angry that there were no talking points offered to surrogates, the source said. One senior administration official suggested that two aides from the communications shop be dedicated just to updating chyrons.
Did Kushner see the Fox News "Kosher" ticker the other day and want immediate action?
Meanwhile, communications staffers such as Press Secretary Sean Spicer have said that it is best to refer these matters to outside counsel since the president now has a private lawyer team dealing with the Russian probe. They've said that getting too publicly mixed up in the issue could cause further legal problems.
[image via screengrab]
—
Follow Justin Baragona on Twitter: @justinbaragona
Have a tip we should know? tips@mediaite.com