CNN and Ted Cruz Get Into Twitter Spat Over 'So-Called' Health Care Amendment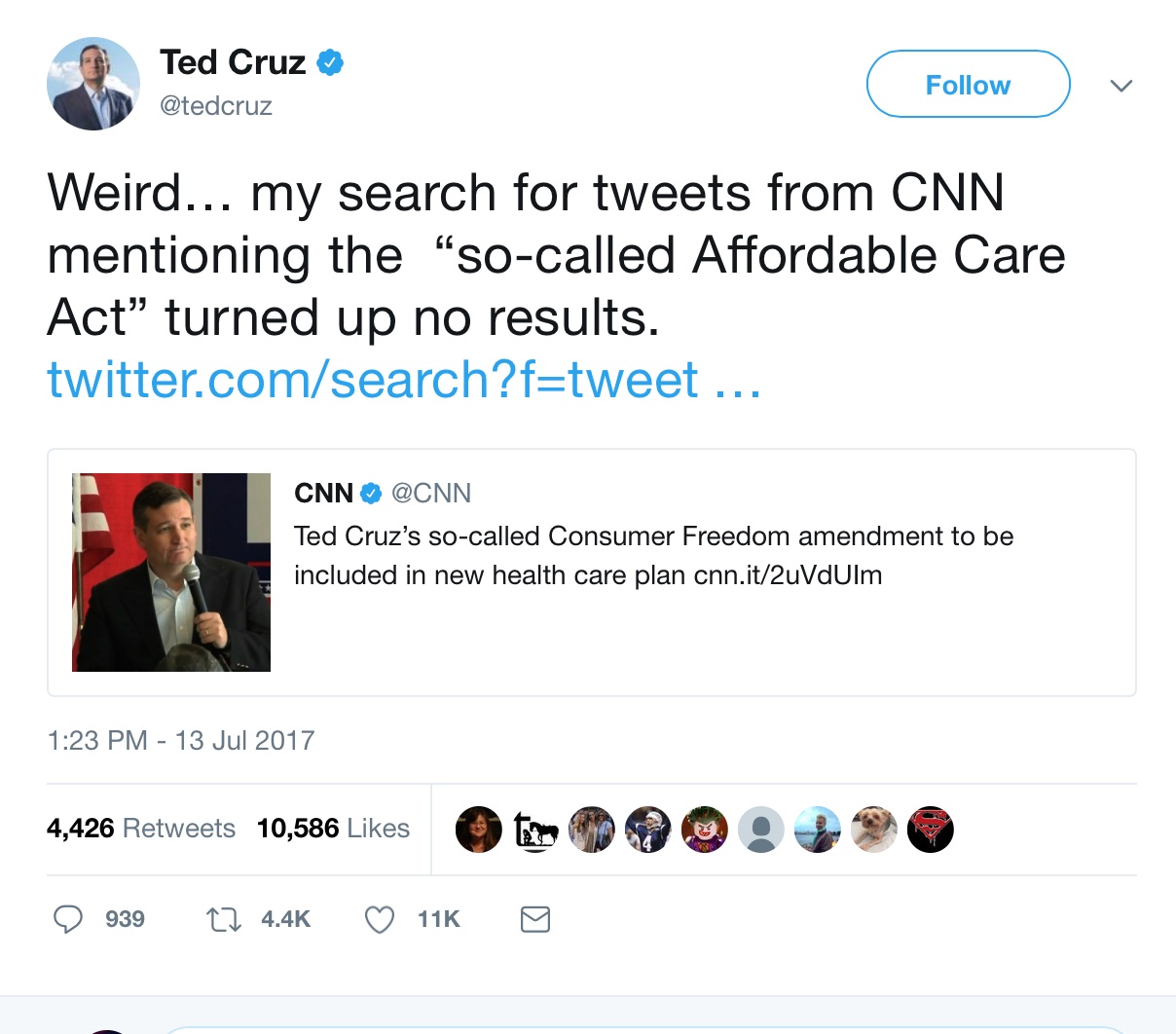 Earlier Thursday, the Senate GOP released a new draft of their health care bill and one of the key provisions in the bill was the Consumer Freedom Amendment written by Sen. Ted Cruz (R-TX), which gives insurers more freedoms to opt out from Obamacare regulations.
CNN tweeted about Cruz's amendment, but made a slight change to the name of it.
Ted Cruz's so-called Consumer Freedom amendment to be included in new health care plan https://t.co/tVdbp7JNOh pic.twitter.com/QuvubJXSyR

— CNN (@CNN) July 13, 2017
The tweet did not go unnoticed.
Why, oh why, would you put "so-called" in this? #93 https://t.co/DmGz40zJ1D

— Joe Concha (@JoeConchaTV) July 13, 2017
It didn't take long for the author of the amendment to comment on CNN's tweet.
Weird… my search for tweets from CNN mentioning the "so-called Affordable Care Act" turned up no results. https://t.co/fizqTwu9uy https://t.co/hT2GxI3pff

— Ted Cruz (@tedcruz) July 13, 2017
This isn't the first time Ted Cruz brought his snark game to Twitter. Earlier this year, he took on the sports website Deadspin after they challenged its followers to send proof of the senator playing basketball. He jokingly replied.
what do I win? pic.twitter.com/9XuRmmIkJS

— Ted Cruz (@tedcruz) January 25, 2017
Deadspin apparently did not appreciate his humor. They responded with the following:
Go eat shit.

— Deadspin (@Deadspin) January 25, 2017
Cruz decided to stay classy and got the better of the exchange, even according to many of his detractors.
— Ted Cruz (@tedcruz) January 25, 2017
Have a tip we should know? tips@mediaite.com