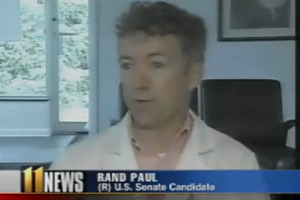 Here is a media bias no one quite saw coming: is local Kentucky media biased in favor of Republican senate candidate Rand Paul? David Weigel at the Washington Post seems to think so, digging up a news report that wonders whether the clouds over an outdoor event for opponent Trey Grayson are a metaphor and tries to suppress excitement over the "Rand Paul phenomenon." Weigel uses the report as a gauge for Paul's political popularity, but beyond that, it seems to indicate that even the most conventional newsrooms are starting to open up to libertarian candidates.
The report highlights the storm under which Grayson campaigned outdoors, noting that "one couldn't help but wonder if the dark clouds that hung over him were a metaphor for the new poll numbers" giving Paul double-digit leads. They also contrast Paul's comment that people are looking for someone who isn't a career politician with Grayson's comparatively unfortunate remark that people like him because he has been reelected.
Rand Paul, son of Texas Congressman Ron Paul, is campaigning on the brand of offbeat libertarianism his father popularized, the kind of views that don't seem to fit with many of the larger ideological trends in political media. For his father, it has meant the occasional appearance on Dylan Ratigan or Judge Andrew Napolitano's Freedom Watch, but rarely a push by the Sean Hannitys or Keith Olbermanns of the world. The establishment left and right on almost every level of media usually have an establishment approved candidate– like Mitch McConnell-endorsed Grayson– to give positive coverage to, but now news outlets are giving that unspoken support to Tea Party candidates like Paul.
For the younger Paul, running as a bureaucratic and ideological outsider seems to be paying off early in his political career, with local WHAS11 newspeople putting together a piece that Weigel says "casts Paul as a rock star and Grayson as a dissembler who awkwardly laughs at the news of the bad poll." He sees the report as a pure indication of political momentum, noting that "failing some amazing coup for Grayson," this is an indication Paul will win the nomination. Beyond that, it shows that the media– not just constituents– are willing to look beyond liberal and conservative for their inclinations.
Video, courtesy Dave Weigel's "Right Now" blog, below:

Have a tip we should know? tips@mediaite.com