Large Crowds Are Now Gathering Outside the White House to Protest Comey Firing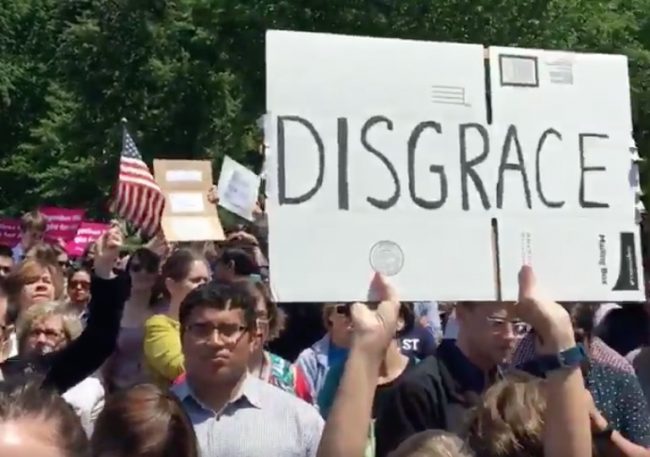 Thanks to Twitter, we can see exactly what is going on as it's happening. Today, we get to see a protest that is taking place outside the White House, where Donald Trump just met with Russian Minister of Foreign Affairs Sergey Lavrov.
The crowd is mostly forming because Americans want to protest the firing of FBI director James Comey, who was helming the investigation into Trump's possible Russian ties. The protesters, like many others, are demanding a special prosecutor be assigned.
Check this out:
.@realDonaldTrump There's an EMERGENCY RALLY happening outside the White House right now! #ComeyGate #SoundTheAlarm #NotNormal pic.twitter.com/KeYQYoCfzz

— MoveOn.org (@MoveOn) May 10, 2017
Crowd starting to amass in front of the White House. pic.twitter.com/mueF0Np75p

— Jesse Berney (@jesseberney) May 10, 2017
Some folks have Trump Russia flags. pic.twitter.com/OavhqXAh1Z

— Jesse Berney (@jesseberney) May 10, 2017
If you can't be here, call your members of Congress and demand an independent special prosecutor.

— Jesse Berney (@jesseberney) May 10, 2017
Crowd rallying at the White House for #ComeyFiring & chanting YATES–big turnout despite being planned a few hours ago #resist pic.twitter.com/60xa3KP0L8

— Kasey O'Brien (@kaseobrien) May 10, 2017
Huge crowd calling for an independent investigation into Trump happening right now at the White House @MoveOn pic.twitter.com/z46Q7vAUfg

— Sara Kenigsberg (@skenigsberg) May 10, 2017
White House crowd now chanting "Rule Of Law" pic.twitter.com/e36C8LIhm7

— Brian Tashman (@briantashman) May 10, 2017
Outside the White House now, crowd calling for special prosecutor pic.twitter.com/pE9Q34hPfc

— Alex Leary (@learyreports) May 10, 2017
Crowd outside the White House around 12:30 pm pic.twitter.com/ARd75xMN3Z

— (((Alex Krefetz))) (@akrefetz) May 10, 2017
Enthusiastic crowd slowly growing outside of White House to protest Comey firing. pic.twitter.com/BqULxKFf9J

— Eugene Steinberg (@EugSteinberg) May 10, 2017
At White House with @Sojourners where a crowd is growing, protesting and calling for a special prosecutor. pic.twitter.com/4w9PWJnBNj

— Layton E. Williams (@LaytonEWilliams) May 10, 2017
Huge crowd outside @WhiteHouse to speak out against @realDonaldTrump's firing of @FBI Director James Comey. #TrumpRussia pic.twitter.com/cSsDrZa9ET

— Shin Inouye (@shin_inouye) May 10, 2017
[image: screengrab]
Have a tip we should know? tips@mediaite.com