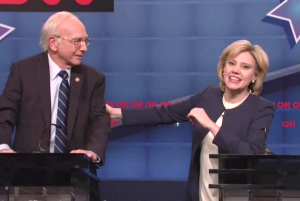 Since the surprise surge in Senator Bernie Sanders' poll numbers this year, many people have long attempted to figure out an apt comparison for the self-described Democratic-Socialist. One of those celebrities has undoubtedly been Larry David, and apparently Lorne Michaels and the NBC powers-at-be have been listening.
The crowd-favorite David was revealed on Saturday night's SNL cold open playing Sanders, moments after frequent SNL host Alec Baldwin appeared to play Democratic candidate Jim Webb.
As expected, Kate McKinnon played Secretary Hillary Clinton as the opening sketch predictably poked fun at Tuesday night's CNN Democratic debate hosted by Anderson Cooper. McKinnon's Clinton angrily declares, "…But this year I thought I got to be the cool black guy," when discussing her 2008 collapse while trying to earn the party nomination for President.
Larry David, providing Bernie Sanders' opening statement, started with, "I'm gonna dial it right up to a ten… we need a revolution! We've got millions of people in the streets. We gotta do something and we gotta do it now!".
When given the opportunity to tap into his inner-Sanders some more, the 68-year-old David launched into his best Seinfeldian version of the Senator, decrying, "What's the deal with emails anyway?".
David ended the cold open assertively stating, "Coming next November I will be… Hillary Clinton's Vice President!"
Saturday night's episode marks the return of Tracy Morgan to Studio 8H, so the stage is set for many of his old SNL/30 Rock comrades to make return appearances.
[image via screengrab]
—
>> Follow J.D. Durkin (@MediaiteJD)
Have a tip we should know? tips@mediaite.com