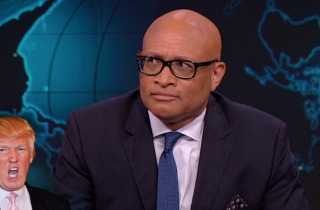 The Nightly Show came back from hiatus on Monday night, and boy oh boy did Larry Wilmore have some catching up to do.
Donald Trump is coming off of a really rough week for his campaign, so Wilmore joked that his show would have to go on for four hours to properly address everything that happened. Wilmore used what time he did have to cycle through the real estate mogul-turned-Republican presidential nominee's recent troubles, but completely lost patience after he arrived at Trump's remark upon accepting the gift of a veteran's purple heart by saying "that was much easier" than earning it during service in the military.
The veteran who gave Trump the decoration is fully supportive of the candidate, though Wilmore said that it was "stealing" for Trump to accept it as he did. Wilmore also noted that the incident happened during Trump's feud with Khizr Khan, and the host was truly beside himself when he got around to Trump's decision to follow that episode by swiping at John McCain again.
"I've run out of words to call this fool an idiot or this idiot a fool," Wilmore said.
Moving right along, Wilmore also poked fun at Trump's defenders and surrogates for deflecting questions and contradicting Trump's personal narrative when they're asked to explain his statements.
"His media surrogates have a lot to explain, but they always manage to avoid actually explaining anything," Wilmore joked. "It's like if you're in the position of having to defend Jeffrey Dahmer. It's like, did Jeffrey Dahmer eat those people?
Watch above, via Comedy Central.
[Image via screengrab]
— —
>> Follow Ken Meyer (@KenMeyer91) on Twitter
Have a tip we should know? tips@mediaite.com