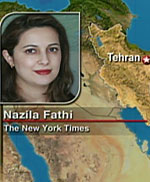 Here's some news that has nothing to do with Sarah Palin. We've mentioned a couple of times on this blog before the New York Times reporter Nazila Fathi, who during the protests over the Iran election this past June was often the only reporter on the ground reporting for the Times.
Last month Fathi penned a piece for the NYT about how Iran journos were fleeing the country in droves and we noted that "judging by the byline on the dateline (Toronto), the NYT's own journalist in Iran may have been part of the mass exodus." Turns out she was. The Toronto Star has picked up the story.
Understandably, Fathi didn't want to insert herself into the story. In fact, it's a story she never wanted to write. But in many ways, hers is the story of Iran's recent spiral into lawlessness and, perhaps worse, hopelessness. It's also the story of how, with depressing regularity, Canada is becoming a safe haven for the world's exiled journalists. It's not easy monitoring events from 10,000 kilometres away. But covering Iran from Toronto is still easier than it was in Tehran when Fathi was holed up in her apartment, watched by security agents, her phone and Internet connections compromised.
The article also details the circumstances that lead to Fathi's departure from Iran:
Fathi was the last Times reporter left on the front lines as activists and dissidents were rounded up, interrogated and tortured. Among them was another Iranian-Canadian dual national, Maziar Bahari, Newsweek's reporter in Tehran until he was picked up in late June at the height of the unrest. Bahari, 42, was released a month ago after his family posted bail. He remains in exile in Britain.

And who can forget the torture and death of yet another Canadian dual national, photojournalist Zahra Kazemi, in Tehran in 2003, which has strained bilateral relations ever since. Against that backdrop, Fathi took the warning signs seriously. A surveillance team took up position outside her family's apartment, as Basiji thugs and Revolutionary Guard enforcers wrested control of the streets from idealistic protestors.

Whenever there were protests, "I kissed my children" before going out, Fathi told me. Later, one of Fathi's old government sources alerted her that a sniper would take her out if they could ever identify her in public. "I stopped going out … I was practically under house arrest." One day, the surveillance team followed her husband and children in four vehicles, then cut him off suddenly and approached their car. It was time to go.
Hard news comes at a hard price, and with the departure of Fathi (among many others) it would appear that both the public and major news outlets are now even more dependent on the sort of citizen journalism we saw last June for first hand accounts of life in Iran.
Have a tip we should know? tips@mediaite.com