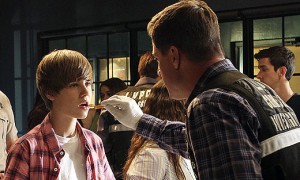 One might think that Justin Bieber making a cameo on CSI would be relatively harmless affair. Yet as we reported before, Megyn Kelly thinks the episode could have been CBS's attempt to smear the Tea Party. Now Laura Ingraham is also finding traces of harm in the episode. "It seems like this was just classic Brentwood, Malibu elitism," Ingraham said on her radio show yesterday, "Making these Tea Party people out to be a bunch of yahoo morons who want to burn down the United States to try to take it over. It's just, to me, it seemed like such a facile treatment of the subject.
She asked:
Is CSI becoming political, becoming lefty? Have they done episodes focuses on Muslim terrorism? [One of her producers says he can't remember one.] So now the Tea Party's the threat, no Islamic jihadists?
She then brought on CSI producer Anthony Zuicker, who defended his show, saying that they simply wanted to portray "a faction taking a position that we shouldn't have driver's licenses, and why pay taxes." Said Zuicker:
Tea Party, I have no idea what all that means, so forgive me. But, in terms of talking, we call it the Church of Crazyology in the [producers] room.
Ingraham had a hard time believing the CSI producers didn't intend to malign the Tea Party, and wondered if the show would have treated "Islamic terrorists or radical pro-abortion people" the same way. She played a clip the CSI episode that she thinks is a "drive-by hit against the Tea Party movement." Here the exchange in the clip below.
Have a tip we should know? tips@mediaite.com