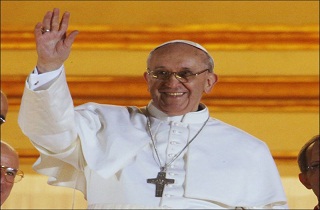 The media's obsession with the Catholic Church's position on things like abortion, marriage equality, and contraception always strikes this practicing Catholic as completely missing what it means to be Catholic. My faith, along with that of most Catholics, isn't determined by the Church's political fights of the day. Efforts by fellow journalists to jam Church teachings into the traditional left/right American political spectrum are futile as its views do not fit nicely into either camp. When somebody shouts about this pope being extremely conservative I roll my eyes as a conservative in the typical American sense would not rail against austerity measures, income inequality, and "unfair economic structures" that hurt the poor. Pope Francis has lived a deeply humble life with a strong focus on aiding the less fortunate and that is a major part of what it means to be a Catholic. It's not just about faith in Jesus Christ for us, good works matter, too.
My fellow libertarian compatriot and devoted follower of the Flying Spaghetti Monster, Andrew Kirell, put out a post on these controversial subjects and how they relate to our new Holy Father. The post is a laundry list of concerns central to so many in the press. It is true that many in the Catholic hierarchy are immensely conservative when it comes to sexual morality issues and in some instances even places those concerns over their concerns about social justice issues.
This pope cares deeply about both but his actions in Argentina as well in as in the first 48 hours of his pontificate tell us that he cares more deeply about matters of social justice and may be even be more "liberal" than at first glance.
As a Jesuit, Cardinal Jorge Mario Bergoglio, was a tireless champion of the downtrodden and poor throughout Argentina. Bergoglio routinely spoke out on behalf of the poor going as far as to liken the conditions in Buenos Aires to slavery due to corruption. He made some of his sharpest remarks on the lives of the less fortunate during a gathering of bishops in 2007, saying that their region is mired in deep poverty.
"We live in the most unequal part of the world, which has grown the most yet reduced misery the least. The unjust distribution of goods persists, creating a situation of social sin that cries out to heaven and limits the possibilities of a fuller life for so many of our brothers," he told the bishops, lumping in the plight of the poor with the expansion of the globalization.
Francis shed the extravagant trappings usually afforded to some Catholic cardinals, preferring, instead, to stick to his Jesuit roots. This is a man who would ride the bus with the lowest of the low in his archdiocese so he could see the problems they face daily. He lived in a simple apartment and cooked his own meals.
It is believed that one of his biggest influences, though, was a Salvadorian archbishop steeped in liberation theology who was later assassinated for his outspokenness on behalf of the poor. While he eschewed support for liberation theology with its close ties to the Latin American left he still managed to challenge the government in his native Argentina for the awful living conditions faced by the poor.
"Let's not tolerate the sad spectacle of those who no longer know how to lie and contradict themselves to hold onto their privileges, their rapaciousness, and their ill-earned wealth," Bergoglio said during a national televised homily.
In addition to strongly opposing austerity measures that disproportionately impact the poor has railed against the child slavery and the abuse of children. He is known to have zero tolerance for child abuse and his reign as archbishop of Buenos Aires has been largely blemish free, unlike some cardinals that were speculated on as potential popes.
For the weary ones focused so deeply on the controversial social questions of the day he has shown a willingness to break with the orthodoxy of Benedict of John Paul II. He has shown openness to the usage of condoms for the prevention of sexuality transmitted diseases and reprimanded priests for refusing to perform baptisms for single mothers.
When it comes to the reforms of the Second Vatican Council and the modernization of the liturgy it appears he is in mostly full agreement with them. His simplicity is a major break from Pope Emeritus Benedict XVI's pomp and circumstance and fondness for the traditional Latin Mass known as the Tridentine Mass. Count me in the camp that was not fond of the many of the changes Benedict implemented in the liturgy for they are clunky and awkward. Francis, though not as spry John Paul II there is reason to believe that he will be similar to him as a global pastor.
Keep in mind, too, that this pope chose the name Francis in honor of St. Francis of Assisi, a great and much beloved Church reformer that dedicated his life to helping the poor. A simple reformer from the outside in the mold of St. Francis is just what the Church needs to inspire us to renew our faith and we may have found him in this Argentine.
Have a tip we should know? [email protected]