Leaked Email Shows Clinton Manager Bashed Sanders Camp: 'Yet Again, They Fundraise Off of Lies'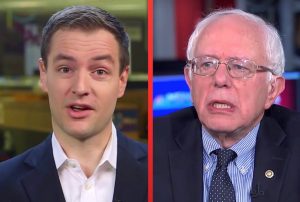 This morning, WikiLeaks announced that they had released the fourth batch of private emails from John Podesta, the Chairman of the Hillary Clinton campaign. Since Friday, the hacking effort has released several thousand emails from Podesta, many of which show presumed collusion between the campaign and members of the media. Emails from the first leak on Friday revealed excerpts from speeches made by the former Secretary of State to Goldman Sachs, a pressure point that Vermont Senator Bernie Sanders hit Clinton hard with during the primaries.
And now, Mediaite has found that the fourth batch of leaked correspondences reveal just what Robby Mook, the Clinton campaign manager, thought of some of the efforts by their then-Democratic rival.
If you remember back to February, one of the controversies from the Iowa Caucus stemmed from a report that the delegate determination was set by a series of coin flips after a razor-thin margin of caucus goers. "The Democratic caucuses in Iowa on Monday were so close that more than a dozen delegates were awarded based on coin flips," wrote The Atlantic at the time; initial reports indicated that Clinton had somehow won 6 out of 6 coin flips, a seemingly impossible task of mathematical improbability.
The Iowa Democratic Party did not keep records of the coin flip specifics, prompting Sanders supporters to cry foul.
In time, CNN's Director of Political Research Robert Yoon wrote the myth-busting article, "No, Hillary Clinton did not win Iowa because of a coin flip," for CNN.com, a link that some Clinton campaign staffers including Mook, Podesta, Huma Abedin, and Jennifer Palmieri emailed around to one another. CNN's Yoon asserted that despite original reporting, it did not appear that there was any nefarious action.
Today's WikiLeaks dump reveals that Mook responded to the chain with:
Haha! Yes! The exciting news…they have coin flips in Nevada too!!
And when Tina Flournoy wrote of the Sanders campaign, "And now [Bernie Sanders is] fundraising off of it," Robby Mook slammed their Democratic opponent, who at the time was posing a serious threat to a Clinton nomination: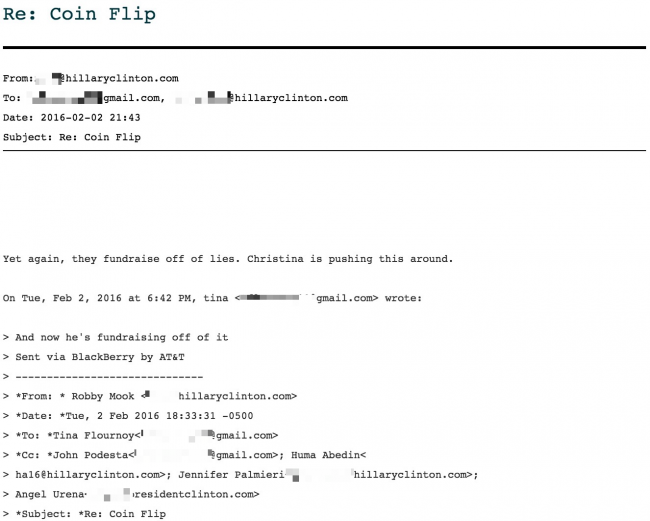 "Yet again, they fundraise off of lies," Mook wrote. Senator Sanders spoke with CBS This Morning right after the Iowa Caucus, and expressed his disappointment with the game of chance.
Sanders said, "I love Iowa and I love the caucus process — it really gets people deeply, deeply involved — but frankly, as I understand it, there were six precincts where a coin toss who would get delegates. I think we can probably do better."
Read the original email thread published by WikiLeaks here.
—
J.D. Durkin (@jiveDurkey) is an editorial producer and columnist at Mediaite.
[images via NBC/Meet The Press screengrabs]
Have a tip we should know? tips@mediaite.com