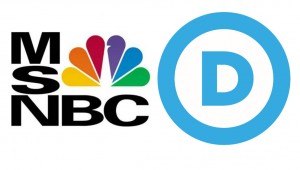 Some of the leaked emails from the DNC hack shed light on the committee's fraught relationship with MSNBC in the waning months of the Democratic primary.
In a May 2 email, DNC Communications Director Luis Miranda wrote a memorandum intended for Debbie Wasserman Schultz, outlining the topics for an upcoming off-the-record meeting between the then-Chair and MSNBC President Phil Griffin at his office. The purpose of the meeting was in part to smooth over the DNC's "severely frayed" relationship with the news network. "Our relationship with NBC/MSNBC is severely frayed given what they perceive as a snub with the last debate, and CNN getting favored treatment," Miranda wrote.
Other emails expose the DNC's tense relationship in particular with the co-hosts of MSNBC's Morning Joe, Joe Scarborough and Mike Brzezinski.
"Fucking Joe claiming the system is rigged, party against him, we need to complain to their producer," Miranda wrote to DNC press secretary Mark Paustenbach on May 18.
That email is coincident with a set of missives from that day and the following day in which Wasserman Schultz became irate with Brzezinski for essentially accusing the DNC of sabotaging Sen. Bernie Sanders' campaign. Wasserman Schultz sent NBC's Chuck Todd an email, subject-lined "Chuck, this must stop." (Todd told Mediaite on Friday that the email was simply, "Someone complaining about coverage. Something that happens daily from every campaign we interact with.")
The May 2 memo also made passing reference to an ongoing quarrel with Brzezinksi, as Miranda said of the meeting with Griffin, "While Mika won't be there, you should point out that you're reaching out to re-engage with her."
The leak of over 19,000 internal emails from DNC officials, made public on Wikileaks Friday, has jolted the party in the days immediately leading up to its convention in Philadelphia. Several communications seems to validate the Sanders campaign's long-held contention that the committee was backing Hillary Clinton, and one email even reveals that a staffer floated the idea of using Sanders' religion (or lack thereof) against him in two upcoming contests.
Following the leak, Wasserman Schultz announced her resignation as DNC chair. She was widely booed at a pre-convention rally Monday morning and will not participate in the convention moving forward. Donna Brazile will act as interim Chair.
—
Sam Reisman (@thericeman) is a staff editor at Mediaite.
Have a tip we should know? [email protected]