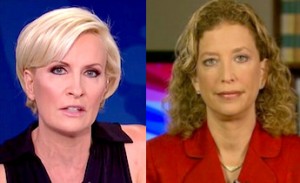 Part of the cache of emails from top DNC officials reveals that DNC Chairwoman Debbie Wasserman Schultz took issue with the negative coverage coming from MSNBC's Mika Brzezinski, going so far as to email NBC's Chuck Todd to tell the anchor that it "must stop."
The email was sent on May 18 to Todd with the subject "Chuck, this must stop." In the email, Wasserman Schultz forwards Todd an article from Breitbart's Ian Hanchett glossing the criticism Wasserman Schultz had received from the Morning Joe co-host. Brzenzinski is quoted as saying that Wasserman Schultz "should step down" over her poor handling of the Democratic primary.
"Chuck, see below. I would like to discuss this with you today. Can you reach out to Luis to schedule a call? Thanks," Wasserman Schultz writes.
Just before contacting Todd, in an email to DNC Communications Director Luis Miranda, Wasserman Schultz was more forceful, writing, "This is the LAST straw. […] This is outrageous. She needs to apologize."
Todd replied to Wasserman Schultz with the hours that day he was available to speak, and she agrees to have Miranda set up a call.
Todd told Mediaite that the email was not remarkable. "I think it's clear what it was. Someone complaining about coverage," he said. "Something that happens daily from every campaign we interact with."
In a later email the same day, Miranda wrote Todd: "Hey Chuck, per our conversation earlier today, I'd appreciate it if you passed along the following to the Morning Joe team."
The email notes that Wasserman Schultz has "talked in very positive terms about both of our candidates." Miranda writes that "No one wrote or rewrote any rules to help or hurt any specific candidate, these are the Party rules." Miranda argues that the importance of superdelegates has been overstated and that there was no DNC chicanery in Iowa or Nevada.
Other emails indicate that DNC officials were arranging to get Brzezinski and Wasserman Schultz to speak to each other on the phone "to clear up some misperceptions of the DNC and DWS that she [Brzezinski] has expressed on the air," DNC communications consultant Ryan Banfill wrote on May 18.
Todd asked Miranda, "Between us, You think the call is a good idea?"
Miranda responded, "Not necessarily. If Mika just doesn't like her, I'm not sure it's worth either of their time. I've lowered her expectations, but don't know. If you think Mika is set in stone I'm happy to kill it."
"I don't know. She can do 180s after these calls. It can't get worse," Todd said.
Miranda told Wasserman Schultz on May 19 that Brzezinski was agreeable to a phone chat, writing, "Mika is willing to do a call with you, so we need to know if you want to make that happen too. We figure it can't get worse, so worth having a call."
"At this point, why would I do that?" Wasserman Schultz replied.
"She's already served as a judge and jury without even bothering to talk to me. Not sure why I should trust having a conversation with her would make any difference. Or that she even matters, to be frank," she added in a separate email.
The missives are just part of a pile of over 19,000 emails and some 8,000 attachments from top DNC officials that were released onto Wikileaks Friday morning. The emails cover the time period between Jan. 2015 and May 25 of this year. Other emails include DNC officials floating a plan to push a conversation about Bernie Sanders' religion in order to "make several points difference" in Kentucky and West Virginia.
—
Sam Reisman (@thericeman) is a staff editor at Mediaite.
Have a tip we should know? tips@mediaite.com