Leslie Jones Tells Publisher They're Helping Spread Hate With Milo Yiannopoulos Book Deal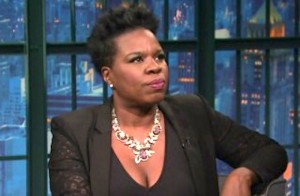 The issues and tension that exist between Saturday Night Live actress Leslie Jones and Breitbart editor and provocateur Milo Yiannopoulos are well-known at this point. The situation got to such a point that Milo was permanently banned from Twitter over accusations that he directed abuse towards Jones.
Last week, it was announced that despite that ban, Yiannopoulos snagged a $250,000 book deal with Threshold Editions, an imprint of Simon & Schuster. The memoir, titled Dangerous, will be available in March.
Well, the published took some heat for signing Milo and issued a statement defending its decision while pointing out it didn't condone hate speech.
Statement regarding recent acquisition by @threshold_books, another division of @simonschuster pic.twitter.com/HTEs1fnsjB

— Simon & Schuster (@SimonBooks) December 30, 2016
While this statement was released on December 30th, Jones didn't comment on it until this afternoon, hitting the publisher for what she felt was them helping spread hate.
@SimonBooks @threshold_books @simonschuster yea but you still help them spread their hate to even more people.

— Leslie Jones (@Lesdoggg) January 2, 2017
She also expressed how angry she was and pointing out that she was "tired of stupid people."
I literally want to put hands to a jaw right now. So tired of stupid people!! And I can't say shit cause if I do I'm the "bitch"!!

— Leslie Jones (@Lesdoggg) January 2, 2017
Besides dealing with the targeted abuse on Twitter, Jones also had her website hacked and nude photos of her posted, which led her to step away from the social media platform for a while.
[image via screengrab]
–
Follow Justin Baragona on Twitter: @justinbaragona
Have a tip we should know? tips@mediaite.com