'Who Knows?' Assange Answers Hannity on Whether WikiLeaks Changed Outcome of Election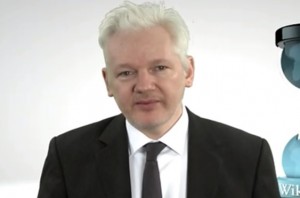 As we reported earlier today, Fox News' Sean Hannity traveled to London to speak with WikiLeaks founder Julian Assange for an exclusive in-person interview.
While Hannity will present the interview tomorrow evening and then show additional parts throughout the rest of the week, we do have some bits available now.
In response to why he thinks the Obama Administration took a dramatic response to the allegations that Russia hacked the election, Assange had the following to say:
"Our publications had wide uptake by the American people, they're all true. But that's not the allegation that's being presented by the Obama White House. So, why such a dramatic response? Well, the reason is obvious. They're trying to delegitimize the Trump administration as it goes into the White House. They are trying to say that President-elect Trump is not a legitimate President."
The WikiLeaks head also said that his source for the hacked DNC and John Podesta emails were not "the Russian government and it is not a state party," something he had previously told Hannity in a radio interview.
As for whether he thought WikiLeaks was responsible for the outcome of the election, Assange gave this response:
"Did it (WikiLeaks) change the outcome of the election? Who knows, it's impossible to tell. But if it did, the accusation is that the true statements of Hillary Clinton and her campaign manager, John Podesta, and the DNC head Debbie Wasserman Schultz, their true statements is what changed the election."
Additionally, Assange stated that Obama was acting "like a lawyer" regarding the Russian hacking allegations and hasn't specifically said WikiLeaks obtained the information from Russia.
Stay tuned for video of Assange's comments, which will be added to this post when available. The interview will be shown tomorrow at 10 PM ET and Mediate will be there to cover it.
[image via screengrab]
–
Follow Justin Baragona on Twitter: @justinbaragona
Have a tip we should know? [email protected]