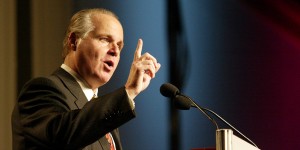 The latest development in the backlash to Rush Limbaugh's comments about Sandra Fluke? A radio campaign. Media Matters is running two advertisements in eight cities — and spending at least $100,000 on the effort. The ads will use Limbaugh's own words to attack him.
RELATED: Memo Shows 96 National Companies Want Their Ads Pulled From Limbaugh's Show
As the Washington Times reports, Media Matters is using "a past campaign against Glenn Beck as a template," but tackling this controversy is a significantly "bigger game." In one of the ads, "listeners are urged to call the local station that carries Limbaugh to say 'we don't talk to women like that' in our city."
From the Times:
Ad time was purchased in Boston; Chicago; Detroit; Seattle; Milwaukee; St. Louis; Macon, Ga.; and Cedar Rapids, Iowa. The cities were selected to support active local campaigns against Limbaugh or because of perceptions Limbaugh may be vulnerable in that market, said Angelo Carusone of Media Matters.

"What we're really looking for is a way to demonstrate the persistence of the effort and the fact that it is on a wide scale," Carusone said.
Rachel Nelson, spokesperson for Premier Radio Networks (which syndicates Limbaugh's show), called the campaign an attack on free speech: "This is not about women […] It's not about ethics and it's not about the nature of our public discourse. It's a direct attack on America's guaranteed First Amendment right to free speech. It's essentially a call for censorship masquerading as high-minded indignation."
On Wednesday, Limbaugh said flak he's been getting has less to do with what he actually said and more to do with a predetermined attack plan: "They're not even really offended by what happened. This is just an opportunity to execute a plan they've had in their drawer since 2009."
As has been widely reported, Limbaugh's program has already lost a significant number of advertisers.
(H/T Washington Times)
Have a tip we should know? tips@mediaite.com