Liberals and Reporters Fret Donald Trump's Cabinet Picks Represent a 'Military Junta'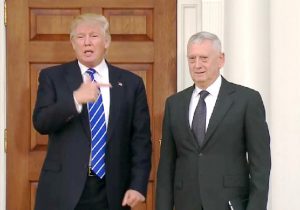 Reporters and liberals (but I repeat myself) complained Wednesday about the number of retired military Donald Trump was selecting for his cabinet, with many wondering it didn't represent a "military junta."
Among Trump's picks so far: retired Marine Gen. James Mattis for Secretary of Defense, retired Marine Gen. John Kelly for Secretary of Homeland Security, and retired lieutenant general Michael Flynn for National Security Advisor. All are now retired civilians, but the selection of Kelly evidently worried many on Twitter:
The Atlantic's Julia Ioffe:
Three generals and maybe a fourth. Can we just cut to the chase and call ourselves a junta?

— Julia Ioffe (@juliaioffe) December 7, 2016
The New Yorker editor Nicholas Thompson:
How many generals do you need in government before you technically become a junta? https://t.co/cGUJse64M3

— Nicholas Thompson (@nxthompson) December 7, 2016
The Green Party:
This is a great question, but it's not likely that @realDonaldTrump knows what the word junta means…. https://t.co/nlfWJRKDj9

— Green Party US (@GreenPartyUS) December 7, 2016
The National Post's Andrew Coyne:
Two more and I think we call it a junta.https://t.co/cCLqvIEIML

— Andrew Coyne (@acoyne) December 7, 2016
Perpetual second-place finisher Clay Aiken:
Now a third retired General in the Cabinet! I think that's pretty much just one away from being considered a junta. #TrumpTransition

— Clay Aiken (@clayaiken) December 7, 2016
Some guy:
Yet another retired general joins Trump admin as it starts to look more like a military junta than a civilian govthttps://t.co/aGkdmyLqRP

— A Once Great Nation (@ResisttheNazis) December 7, 2016
The term "junta" is typically reserved for dictatorial governments led by active military, not governments under civilian control with former military in high-ranking roles. The term also typically carries the connotation that the ruling class came into power "after a revolutionary seizure of power."
[Image via Shutterstock]
—
>>Follow Alex Griswold (@HashtagGriswold) on Twitter
This is an opinion piece. The views expressed in this article are those of just the author.