Limbaugh Confronted by Caller: You're 'Going So Far Out of Your Way… to Defend Trump'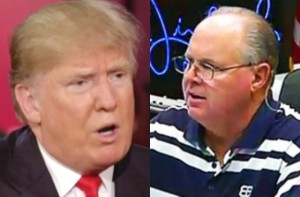 Rush Limbaugh's refusal to criticize Donald Trump has been a source of frustration for many of his conservative listeners, and one of them really confronted him on it today.
The caller told Limbaugh that he was a little frustrated with how much he seemed to do "backflips and cartwheels to defend Trump" on his big abortion flap.
He said that he's listened to Limbaugh for years but is somewhat dismayed that ht's not calling out Trump, especially when he and his supporters share significant qualities with President Obama and his supporters.
Limbaugh himself seemed to get pretty frustrated himself over the course of the segment. He indicated he's personally fascinated with the rise of Trump and genuinely wants to explore that phenomenon and has no interest in trying to 'destroy his candidacy."
And then he got brutally honest about his motivations here:
"What I'm trying to do is limit the damage it's done to us and prevent the Democrats getting a big score out of it, because my whole point here is to defeat Democrats, defeat liberalism. That's the destructive force. This thing that happened, you may not want to hear an hour and a half about it, but I'm telling you what happened last night was huge… I'm simply trying to do what little I can to limit the damage of what happened last night."
There were other callers earlier in his show that expressed similar frustrations, and if you want an idea of how Limbaugh is taking all this, look at how the transcript was headlined on his website:

Listen above, via The Rush Limbaugh Show.
[h/t Daily Rushbo]
[image via screengrab]
— —
Follow Josh Feldman on Twitter: @feldmaniac
Have a tip we should know? tips@mediaite.com
Josh Feldman - Senior Editor