Limbaugh Explains His 'Surrender' On Gay Marriage: It Wasn't 'Expression Of Desire,' It Was 'Political Analysis'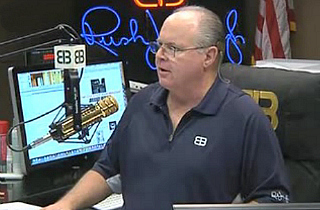 On his radio show Friday afternoon, Rush Limbaugh explained why he seemingly surrendered and told his audience on Wednesday that "gay marriage is inevitable," emphasizing that his remarks were "political analysis" and not at all an "expression of desire" for same-sex marriage to be legal.
Earlier this week, Limbaugh made waves by declaring the fight against same-sex marriage to be over because "we lost the issue when we started allowing the word 'marriage' to be bastardized and redefined." Some may have interpreted this as an endorsement of that "redefinition" of marriage, and so the conservative host took to his show today to lambast the "liberal media" for leaving out the context behind why he declared it inevitable.
"If you recall, I made that statement after sharing with you the details of a Politico story about two Republican consultants, combined with 75 Republicans, who signed on to the amicus brief supporting gay marriage at the Supreme Court to overturn Proposition 8," Limbaugh recalled. He suggested this news led him to conclude that same-sex marriage is an inevitability.
"The Republican Party wishes it would go away," he said of the same-sex marriage issue and how he believes the GOP has caved to gay rights proponents on the matter.
Before playing a montage of CNN hosts and reporters discussing Limbaugh's "gay marriage announcement," the radio host clarified: "It wasn't an 'announcement.' It was political analysis. It wasn't, by the way, an expression of desire; it was a political analysis."
He also had a few chuckles at the notion that because Limbaugh declares gay marriage inevitable, that makes it so. "I simply proclaim the inevitability of gay marriage, and you would think that God has spoken on this," he said.
Listen below, audio via DailyRushbo:
— —
>> Follow Andrew Kirell (@AndrewKirell) on Twitter
Have a tip we should know? tips@mediaite.com